Sarah Palin makes "30 Rock" parody with John McCain, Lindsey Graham
Impersonating the impersonator and getting a plug in for her new book "Sweet Freedom"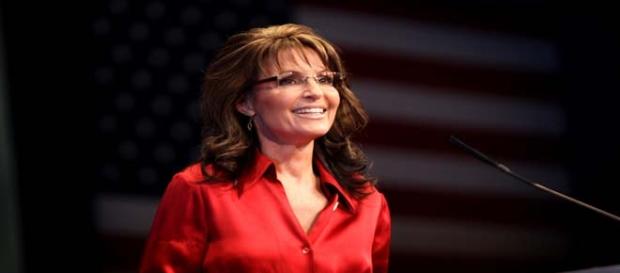 A few days after actor Tina Fey reprises her impersonation of Sarah Palin on the "Saturday Night Live," show, Palin, 51, a former Republican vice-presidential candidate and governor of Alaska, decided to do a "30 Rock" parody and called it "31 Rock.'
In the "30 Rock" parody, Palin plays Fey's character, Liz Lemon. She wears a hoodie and demands a "Big Gulp" drink. She also puts a smack down on being political correct, and complains about the Starbucks red cups that inspired outrage for not having snowflakes on them this holiday season, which upset several Christian evangelists.
Fellow Republican Lindsay Graham makes a cameo in the video, as well as Republican Arizona Senator John MCain, who was the presidential candidate who picked Palin as his running mate in a failed bid for president in 2008.
"30 Rock" parody lets Palin prank Tina Fey
Palin's one-minute version of the "30 Rock" parody also features "Saturday Night Live" cast member Kevin Brown, who was known for playing the character Dot Com on the show. During the video there is an ad for Palin's book, "Sweet Freedom," which Brown says is a good way to remember the pressures in a PC (politically correct) culture. Palin replies to that by running her hands over her laptop and saying that the only PC she needs is right there.
Independent Journal produced the parody "31 Rock," and also made some other off-beat political videos such as one that went viral, entitled, "How to Destroy Your Cell Phone with Lindsey Graham."
Palin weighs in on 2016 Presidential Race, other conservative topics
Palin still has a large following on social media even though she hasn't held office for over six years, and is no longer a FOX News contributor.
She is said to use her Facebook and Twitter accounts to tout her conservative values to her followers.
Palin has defended 2016 Republican presidential candidate Donald Trump when he talked about his proposal to ban all Muslims from coming into the US, and was said to have blamed the liberal media for not letting him finish his thought regarding what she says was a conversation leading to a pause in immigration.
Even so, Palin has not yet endorsed anyone for the Republican Party candidate for the 2016 US presidential race, but sources say she is considering Trump or Texas Senator Ted Cruz. In any case, the "30 Rock" parody has Palin back in the news again to the delight of her many fans.
Click to read more
and watch the video
or