Rumors spread that Justin Bieber is dating Kourtney Kardashian
The two are rumored to be hanging out together, and perhaps there's more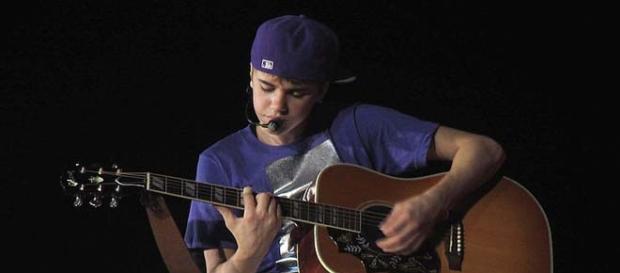 Justin Bieber's life always seems to be in a state of drama, and the latest rumors being spread say Justin Bieber dating reality star Kourtney Kardashian are causing shockwaves all over the Internet.
The rumor of Justin Bieber dating Kourtney Kardashian, 36, started when the two of them were seen in the same place recently. The rumors gained more clout when Bieber, 21, seemed to be mocking the father of Kourtney's three kids (Scott Disick) on Instagram.
Instagram photo thought by some to be Kourtney, photographers prove otherwise
An Instagram photo showing Bieber leaning on a car with a woman that couldn't be identified, with a caption saying, "Lord knows." Some fans decided this was an insult to Disick because he goes by the name Lord.
However, the woman in the photo was not Kourtney.
In fact, the truth of the matter according to other photographers at the scene from a different angle, say it wasn't Kourtney at all, but it was Jasmine Villaneva, a blond model from Chicago.
They showed that while the face can't be seen, the woman's shoes and dress give her away, as other photos from the same night show Bieber with a bunch of women on a yacht and Jasmine is there wearing that same outfit.
Even though that was the case, media headlines have been popping up such as one in the magazine Elle saying that Bieber was the perfect rebound guy for her. It went on to say that Bieber was the right age to be someone who would likely worship and learn from an older woman, but is also too young for anyone to take him seriously.
The other factor involved in stirring up the rumors about Bieber and Kourtney could be due to the fact that his on-again off-again girlfriend, Selena Gomez, is supposedly now dating someone else, Niall Horan of the band One Direction. Gomez denied that the two are dating, but they were seen together leaving an X Factor after-party on Sunday evening.
Despite the fact that no one knows for sure if Bieber and Kourtney are going out together, Gossip Cop says that they were seen hanging out all night Friday in Los Angeles, and that Kourtney was seen going into the Montage Beverly Hills Hotel, where Bieber stays a lot, and wasn't seen coming out of the hotel until 4 am.
All in all, Bieber is said to be a friend of the Kardashian family, but no one knows for sure as yet if the rumors of Justin Bieber dating Kourtney are true.
Click to read more
and watch the video
or