New Star Wars movie bringing new characters, new adventures
Anticipation reaches fever pitch as fans wait for release of movie nationwide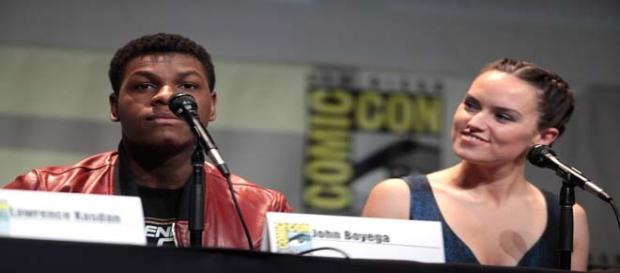 Both images are from Flicker.com
The new Star Wars: The Force Awakens movie is set to open in thousands of theaters tomorrow and with it come new characters and new adventures in the famous series. Some fans have anticipated the new flick so much that they pre-booked movie tickets in October in anticipation of the December 18 opening.
One of the biggest factors creating excitement about the new Star Wars movie is the introduction of new characters.
Some of the main new characters in this new Star Wars movie are Daisy Ridley as Rey, a young woman from a desert planet called Jakku, and John Boyega as storm trooper Finn. One of the new villains is Kylo Ren, played by Adam Driver.
Of course there is a new droid of the saga, BB-8, which some rumors say is actually a girl droid.
New interpretations of old Star Wars in new Star Wars movie
Fans want to see familiar things in a movie series, as well as see new thing woven into the fabric of the story. For instance, Star Wars: The Force Awakens, is just as thrilling, fun and even adorned with comic moments as the originals.
The famous Force is still a vital part of the movie, but it has been expanded to be a bit more mythological and is organic to a planet, plus a few other interesting and new ideas are woven into its use and its magic; you will see some surprises when you go to view the movie.
Plot of Star Wars: The Force Awakens grabs fans
While the exact plot of the new movie hasn't exactly been revealed, the gist of it is that the First Order has rebuilt itself from what was left of the Galactic Empire, and is being led by Supreme Leader Snoke (played by Andy Serkis) and his protégé, Kylo Ren.
The rebellion is being led by General Leia Organa (played by Carrie Fisher, former Princess Leia) to fight them, while the other characters get drawn into it in various ways. Along the way Harrison Ford recaps his role as Han Solo, and many of the old favorites also come back, like Chewbacca (played by Peter Mayhew), as well as C-3PO and R2-D2, and of course Mark Hamill as Luke Skywalker.
Word is that if you loved the previous movies, you are likely to also love the new Star Wars: The Force Awakens, which opens up in thousands of theaters everywhere tomorrow.
Click to read more
and watch the video
or