More body art added to collection with new Kylie Jenner tattoo
"Sa-nǝ-tē" tattoo may be a sign of what the young Kylie is looking for in life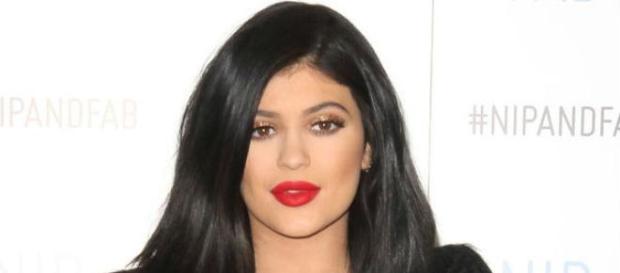 Kim Kardashian's sister has a new Kylie Jenner tattoo that she is showing off on her Instagram account. The new Kylie Jenner tattoo is a phonetic spelling of the word "sanity," and was inked by famous tattoo artist Bang Bang (who did one of her previous tattoo jobs).
The new Kylie Jenner tattoo is on the 18-year-old's hip, and isn't the first of her collection of tattoos on her body. The new one is written in red ink and was announced in her Instagram post to the delight of her more than 48 million followers.
The post was entitled "all red." She also has a little red heart tattoo right above her elbow that was done by the same artist in the same color.
New Kylie Jenner tattoo is third one this year
The brand new "sanity" tattoo is the third tattoo the teen has gotten this year for her body art collection, which means she has more tattoos than her older sister, Kendall, who has two of them: a little white dot and a BFF heart.
It could be she's going for a theme since it's the second of Kylie's tattoos that's red in color.
The meaning of the new tattoo isn't really known, as it appears Kylie's life is far from sane. However, her tattoos are in sane places on her body, which mean they can be covered easily if she wishes to stay in the modelling field. Kylie is known to have said that the meaning of the red heart tattoo was to symbolize all the love in her life, such as her love for Tyga, her BFF.
Other hip tattoo still a mystery
Another of her three tattoos is written in black and on her hip. Its only been shared in a Snapchat video, so it isn't clear what the word is, but fans say it might be the word "freedom" or maybe even Tyga's real name, which is Michael. Some say she may be planning more tattoos, especially since this one is the third one she has gotten on her body in the past few months.
While the one on her hip is still a mystery, this new Kylie Jenner tattoo is being shown off on her Instagram account to the delight of her hordes of fans. It'll be interesting to see what ink she'll get next.
Click to read more
and watch the video
or