Kardashian: Auntie Kendall Jenner is yet to meet nephew just to be close to Justin Bieber
The supermodel was in London, as she seems to support the Canadian singer after ex-Selena Gomez moved on with Niall Horan.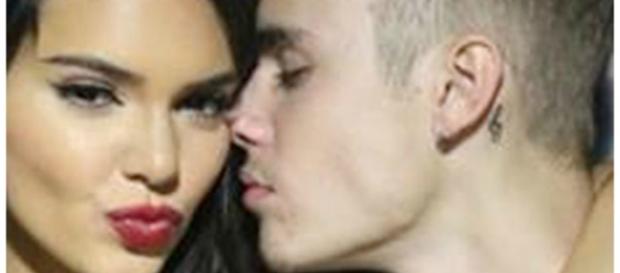 Kendall Jenner has a very busy schedule. With several works in the fashion industry, where she excelled in 2015 as a supermodel, the 20-year-old also marks presence at many events, anywhere in the world, generally well accompanied by the Kardashian-Jenner sisters, or by her well known best friends. On this Sunday night, Kendall felt very isolated, just concentrated on her friend Justin Bieber. The model has been in London to attend the Canadian artist's show at the O2 arena, supporting her friend who is allegedly going on a very difficult time.
The socialite was pictured very relaxed in the midst of other young people who attended the same show. Even with a discreet makeup, Kendall could still make an impression, enchanting for her natural beauty.
Kendall Jenner landed on Sunday morning in London, while the entire Kardashian-Jenner family is pampering the arrival of the new family member. Kim Kardashian and Kanye West's baby boy was born on Saturday and the family is divided into visits to meet and featherbed baby and mom. 
According to some family reports, everything's going well with both Kim and the baby boy (he still has no name, or at least it has not been disclosed). Meanwhile, auntie Kendall postponed her first visit to enjoy Bieber's show in London.
Bieber with broken heart
Justin Bieber and Kendall Jenner have been friends for years and, as a good friend, Kendall was present at the most difficult time. The singer of Boyfriend is not accepting well the alleged passion between Selena Gomez and One Direction's singer Niall Horan.
The Canadian never thought that romance could happen, as he considered Niall as a friend. After Selena and Niall were caught kissing, last Friday, Justin is still shocked. He's been claiming he just can't overcome Selena and is still in love with the former Disney star.
Despite his declarations of love, Selena is set to move forward with the Irish Niall Horan. Once again, Kendall Jenner appears to support her friend. Or is he something more to her? In fact, some old rumors referred that Bieber would have betrayed Selena with the beautiful sister of Kim Kardashian.
Click to read more
and watch the video
or