Guns N' Roses Reunited for 2016 Coachella Music and Arts Festival
Slash and Axl have buried the hatchet and are ready to get back to doing concerts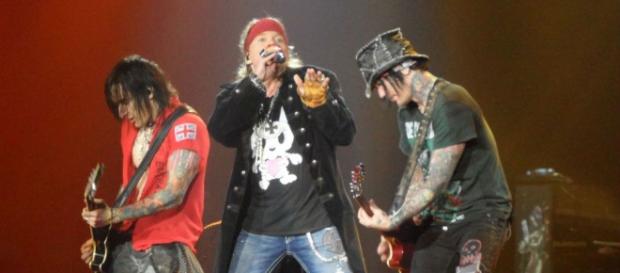 Attention all Guns N' Roses fans! Billboard has confirmed that Guns N' Roses will be next year's headliner act at the Coachella #Music and Arts Festival. The festival is scheduled to go on in Indio, California from April 15 to 17, as well as April 22 to 24.
Additionally, Guns N' Roses is under negotiation for a 25 date tour in football stadiums all over North America. The band have asked for $3 million per show if and tickets are expected to be sold for between $250 and $275 each for fans.
Original founders of Guns N' Roses to be in lineup
Fans will likely be excited, as the founding members of Axl Rose and Slash are scheduled to be featured performers in the lineup, as well as bassist Duff McKagan.
However, it is not yet known if Izzy Stradlin, one of the original guitar players, or Steven Adler, one of the original drummers, will be there.
It is known that Matt Sorum, as well as Frank Ferrer, drummer, and Richard Fortus, guitar player, will be on hand to play in the performance. The last time Axl and Slash were together was back on July, 17, 1993, when they played at the River Plate Stadium, Buenos Aires.
Repaired friendship allowed band to get back together
There had been speculation about the band having a reunion tour since Slash and Axl revealed they had patched up relations between them after being estranged for about 20 years. Reunion of the band had been hinted at for several years, and now it is a reality. Their most recent showing only had Axl Rose in it from the original band member lineup, played in South America and The Joint in Las Vegas, which made $15.2 million
One clue that showed the band was back in business was that the band's website went offline this past weekend and was replaced by the original band lineup logo.
Also, a teaser showed up that had footage of a concert crowd where the band was playing in the background. Slash and Axl are also said to be ready to play together in the brand new Las Vegas Arena April 6 prior to Coachella.
Coachella's official full lineup hasn't been announced, but it is scheduled to be released about January 5. The festival has a reputation for bringing reunion acts to the stage such as Rage Against the Machine and Outkast in previous years. The year they are bringing together Guns N' Roses for the annual music festival, to the delight of their many fans. #Buzz