Bono Says U2 Paris Dates in December to Go On
November shows had to be cancelled because of terrorism, but Bono says these shows will happen.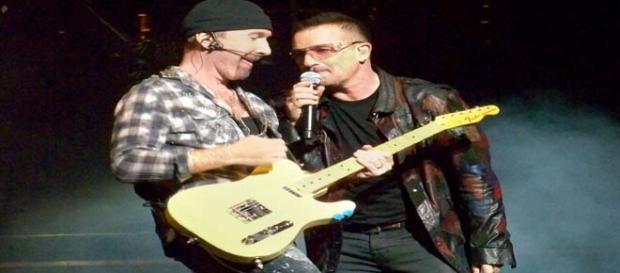 French U2 fans had to do without their favorite band when they were scheduled for U2 Paris dates of November 14 and 15 to play in Paris. The Paris terror attacks on November 13 that killed and injured hundreds of people, caused the shows to be cancelled and have been rescheduled for December and will go on as planned, says Bono. The U2 Paris dates are now December 6 and 7, and the show on the 7th is expected to be broadcast live on a special show for HBO.
U2 headliner Bono speaks out about U2 Paris dates
Bono spoke out about the need to work hard for peace to become a reality after the Paris terror attacks and other incidents around the world.
He said that peace was built slowly, and that it was not an easy process, but that it could be done.
He said that originally, he hadn't wanted to cancel the U2 Paris dates in November, but it was something that became a necessity.
The band rushed to help the Eagles of Death band members, who needed transportation and new cells phones to help with contacting friends and family since their phones were lost when the terrorists attacked the Bataclan where they were playing that night.
Bono praised the Eagles of Death band, saying they had to endure a nightmare, and that they too plan to come back to play at the Bataclan when it reopens.
December Paris show expected to be high profile event
The U2 performance slated for December in Paris is expected to be very high profile since it is the first major concert after the November terrorist attacks. Bono said they are contemplating having some special guests at the show. Plus, he said how ironic it was that U2's Innocence + Experience tour, which features a show immersed in the effects that Ireland's own issues with terrorism had on the band members when they were young.
Bono said it is an act of defiance, as well as joy, and they are doing what they've always done and that is what France wants. Bono compared U2's upcoming Paris shows with the concert they played in New York's Madison Square Garden soon after the terror attacks in the US on 9/11. He said that nothing will keep them from playing their scheduled concerts in Paris this month.
U2 and several other groups, such as Foo Fighters, had to cancel shows in Paris after the terrorist attacks, but the U2 Paris dates are the first concert to be scheduled for the city since then.
Click to read more
and watch the video
or