'The Voice' 2015 live playoffs iTunes charting: Night 2 returns see 1 hopeful bonus-bound
Team Blake's Emily Ann Roberts primed to enter the top 10 following live show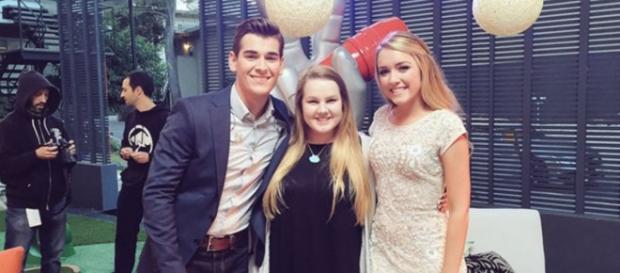 The Voice 2015 resumed Nov. 10 from Los Angeles with the second and final night of season nine playoff round action, as the 12 contestants representing mentors Blake Shelton and Pharrell Williams performed live for America's votes. The iTunes chart placements at the close of the tape-delayed west coast broadcast provide insights into which contestants may have the upper hand when it comes to earning tickets to the next phase of the competition. So where did they rank on the iTunes chart, and who has the biggest advantage?
Who has the biggest edge per the iTunes chart?
With her cover of the gospel song In The Garden ranked a field-best 16th on the iTunes top 200 chart by 10 PM Pacific time post-show, Team Blake's Emily Ann Roberts stands the best chance of earning a spot on Shelton's live show-bound team.
Should the 17-year old break into the top 10 by the 9 AM Pacific close of the voting window, she will become the second contestant of the season to earn an iTunes vote multiplier; Team Adam Levine's Jordan Smith scored one for placing third on the chart for his Nov.
9 iteration of Beyonce's Halo.
Night 2: A look at the full post-broadcast iTunes results
The iTunes chart rankings as of 10 PM Pacific time post-broadcast paint a picture of who is --and who isn't-- likely to advance, with the higher-ranked hopefuls historically holding a significant edge over their lower-rated competitors.
16. Emily Ann Roberts, In the Garden (Team Blake)
31. Zach Seabaugh, Brand New Girlfriend (Team Blake)
32. Madi Davis, Songbird (Team Pharrell)
35. Barrett Baber, I Drive Your Truck (Team Blake)
59. Celeste Betton, Something in the Water (Team Pharrell)
69. Evan McKeel, Overjoyed (Team Pharrell)
110. Ivonne Acero, One of Us (Team Blake)
116. Morgan Frazier, Lips of an Angel (Team Blake)
142. Darius Scott, Love Lockdown (Team Pharrell)
152. Mark Hood, What Do You Mean? (Team Pharrell)
172. Riley Biederer, Should've Been Us (Team Pharrell)
The only contestant not ranked in the top 200 was Team Blake's Nadjah Nicole, who covered the 1980 Diana Ross song Upside Down.
When The Voice 2015 continues Nov. 11 on NBC, the top 24 will be whittled down to just the top 12. In addition to the two contestants from each team who will automatically advance based on the results of the nationwide vote, each mentor will be charged with choosing an additional team member to round out his or her three-hopeful squad.
Click to read more
and watch the video
or