'The Voice' 2015 live playoff spoilers: What songs will the contestants sing on night 2?
The Nov. 10 show will feature debut live performances from Blake Shelton and Pharrell Williams' teams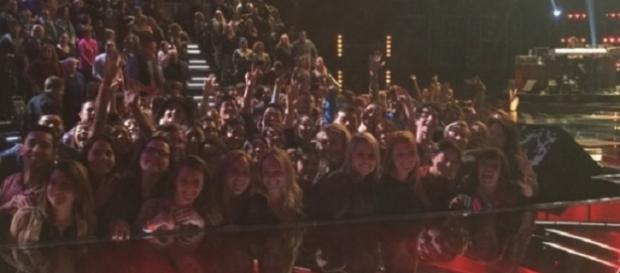 When The Voice 2015 resumes Nov. 10 on NBC, the 12 aspiring artists representing mentors Blake Shelton and Pharrell Williams will hit the stage to sing during their segment of the live playoffs. So who's singing what, according to an afternoon update to the iTunes store?
Team Blake's playoff night set list
With iTunes vote multipliers --which will impact the contestants' vote totals through the end of the season-- and just three spots on each coach's team up for grabs, good performances are a must for every single hopeful still in the mix.
The singers representing country star Shelton will deliver covers of the following songs:
Barrett Baber, I Drive Your Truck (Lee Brice)
Emily Ann Roberts, In the Garden (gospel)
Ivonne Acero, One of Us (Joan Osborne)
Morgan Frazier, Lips of an Angel (Hinder)
Nadjah Nicole, Upside Down (Diana Ross)
Zach Seabaugh, Brand New Girlfriend (Steve Holy)
Nicole, who lost to Roberts during the Knockout rounds, was selected by Shelton to return to the competition.
What's on tap for Team Pharrell?
The six members of the R&B star's squad will sing an array of tunes made famous by a variety of stars, including Stevie Wonder and Justin Bieber. The Team Pharrell playoff set list includes:
Celeste Betton, Something in the Water (Carrie Underwood)
Darius Scott, Love Lockdown (Kanye West)
Evan McKeel, Overjoyed (Stevie Wonder)
Madi Davis, Songbird (Fleetwood Mac)
Mark Hood, What Do You Mean? (Justin Bieber)
Riley Biederer, Should've Been Us (Tori Kelly)
With the first night of season nine playoffs already in the books, Team Adam Levine's Jordan Smith holds a decisive advantage over the rest of the field. The Kentucky native scored big with his cover of Beyonce's Halo, which climbed to number three on the iTunes top 200 chart and scored the hopeful the season's first iTunes vote multiplier. 
To see how Shelton and Pharrell's teams fare with the playoffs, watch the live broadcast when it airs at 8 PM Eastern on NBC.
Check the iTunes chart at noon Eastern on Nov. 11 to see if any of the contestants earn an all-important iTunes vote multiplier for their efforts.
Click to read more
and watch the video
or