Kylie Jenner and Tyga: A Short but Really Ugly Break-Up
They are reportedly back together, but they had shown they are not that close anymore.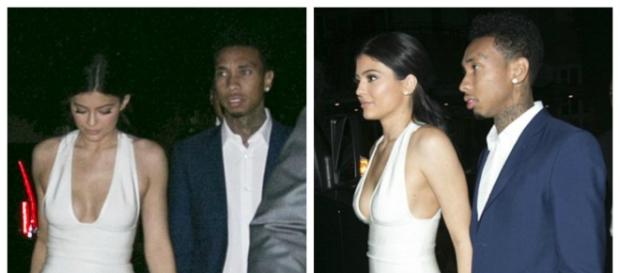 "It was something Tyga did," an insider said to declare the break up between Kylie Jenner and Tyga. Just a few days later, they were back again, as they were on Sunday night, at the American Music Awards after-party, as they walked in hand-in-hand. But, are they really okay? Did she really forget what "Tyga did"? It may seem they can't live without each other, but the days they were apart only proves there are real problems in their romance. 
Kylie and Tyga ended all the rumors of a break up, when they appeared close together in the after-party Justin Bieber hosted at The Nice Guy in Hollywood.
The couple was reunited again, as they step together with Hailey Baldwin. Hailey is one of Kylie's best friends and the brunette socialite just couldn´t miss her birthday party.
Also super-model Gigi Hadid was there. 
The break-up
Allegedly, Tyga "did something" and the beautiful Kylie dumped him last Thursday, precisely on his 26th birthday. The website TMZ announced the break, and everybody noted that Kylie didn't wish him a "happy birthday" on social networks, which would be awkward. Also, she didn't show up at his birthday party. 
What Kylie did while 'single'?
She was partying, of course. The 18-year-old brunette was seen at a party with friend, Justin Bieber, on Friday night. On Saturday, she hosted a dinner for friends at her own home. She seemed very happy and relaxed with her friends, cooking and just chatting with them -- and there weren't any signs of boyfriend Tyga, since he wasn't invited.
Did Tyga really called Kylie a 'b**ch'?
It might be, as he posted a video of a new song, called "Happy Birthday," last Saturday.
And it seems the rapper did it on that day, as he posted a photo of himself on studio, recording something he was reading on the phone. He captioned the picture: "Right now."
The song looks a bit offensive and people are speculating it could be directed to former girlfriend, Kylie. "Hey happy birthday, you look surprised. I'm a gift b***h, right before your eyes, I do this all the time b****, why you look surprised? Hey - you think I'm worried about a scandal? You put me on every channel," the rapper sang, as noticed by newspaper Mirror. 
What do you think about it: Was he just mad with Kylie? Or aren't they that in love anymore? Let us know your opinion, by commenting here.
Click to read more
and watch the video
or