Kardashian's youngest: Is Kylie Jenner pregnant?
18-years-old girl amid rumours of being pregnant, and Kendall doesn't approve her sister 'priorities'.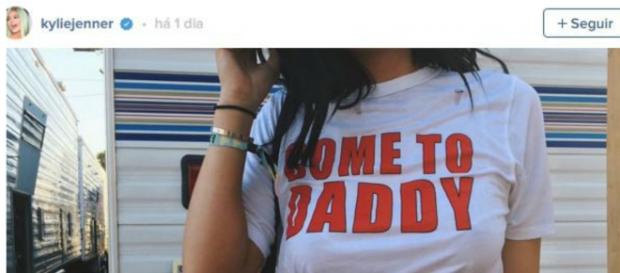 Despite being only 18 years old, Kylie Jenner appears to be much more mature than her age. Especially because of the clothes and makeup she regularly uses. Last Saturday, the socialite turned to shock her own fans by dressing a T-shirt with the inscription 'Come to Daddy'. After publishing a photograph in Instagram, fans were quick to question Kylie whether or not she was pregnant.
No answer from the Kardashian-Jenner family's youngsten, and this may be just another rumor, created by herself.
It's not the first time that the young girl sets off pregnancy or marriage rumors, through social networks. 
Kylie is dating the rapper Tyga, 25, and he's probably the reason why she tries so much to look older.
Saturday, she went to Willow Smith's concert, one of her biggest friends, and she posed with this awkward T-shirt. She also made a video, inside the show, by singing a few lyrics, but later she posted on Instagram a photograph showing her T-shirt, and saying a "Yes" as a subtitle. 
Yes, I'm pregnant? That's what some fans are asking her. With the white T-shirt knotted up around her waist, and showing off her fitted belly, she shocked her fans who might think this is a message for boyfriend Tyga. 
Kendall and Kylie: Not the BFF's anymore!
The rapper, seven years older than Kylie, is not the most beloved person within the Kardashian-Jenner family. Kylie's love story didn't get the approval of her family. Recently, a rumor spread that Tyga might be the reason why Kylie didn't show up at Victoria's Secret Fashion Show when sister Kendall did her first runway, modelling two stunning outfits. It was one of the biggest moments for Kendall and Kylie didn't appear, one of the several signs that the two girls are not that friends anymore. 
In a new teaser for season 11 of Keeping Up With The Kardashians, there's a big fight between the siblings, and both girls lost their cool...
for a dress. Kendall, 20, asked Kylie to lend her one of her dresses, because she wouldn't have time to go to her house, and pick one. "She doesn't have her priorities straight", Kendall said to Caithlyn Jenner, as she seems worried with her sister Kylie. 
The youngest of Jenner's sister said 'No'. As she refused to borrow the dress, Kendall stayed really upset and since this July 15, the two sisters were no longer seen in their usual dates. Also, in their reality show, there's a moment when Kendall tells Kylie she wish they could spend more time together, referring that her sister is always with Tyga.
Click to read more
and watch the video
or