He May not Recover. Khloe Kardashian Reveals Concerns about Lamar Odom's Shaky Health
The former NBA star is in a rehab process after the collapse, but it seems he has a lot to do until fully recovery.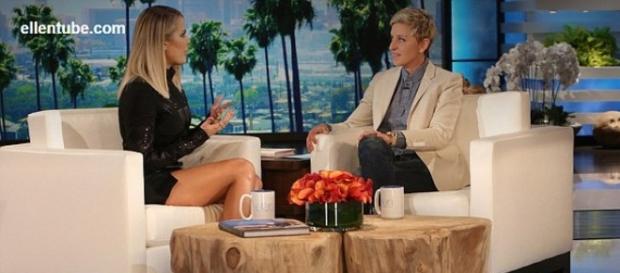 Lamar Odom, the former NBA star is having a very slow recovery and he remains very confused about what had happened. Khloe Kardashian made all the shocking revelations on Ellen, in an episode that will air on Monday. The 31-year-old Reality TV star explained the reasons why she called off divorce with Lamar and how he is recovering after the collapse he suffered in October. 
Khloe Kardashian went to the Ellen show to promote her new book "Strong Looks Better Naked," but the interview with Ellen DeGeneres proved to be much more intimate and more personal than the theme of the book itself.
The new blonde opened up about her life and made great revelations over Lamar's illness. The former American athlete is going through a hard recovery after he went into a coma a month ago.
After several days of hospitalization, Khloe explained in what recovery phase her still husband is. The socialite explained that the former Basketball player has brain damage caused by coma and the three days in the brothel, with too much alcohol and drugs. 
Due to that, Lamar doesn't know even why he is at the hospital. He can't remember what happened to him in the previous days before the accident. "Lamar still has a long road ahead. He's learning to walk again, to feed himself and how to make sentences," said his wife to Ellen DeGeneres. 
Khloe explained that Lamar does not know what caused his brain injury and she fears that when he finds out he may regress in his recovery. And it is Lamar's brain injury that made her call off their divorce, because it wouldn't make any sense to go on while he is trying to recover.
"I'm there helping him and I love him and I've always loved him. And that will never change and I just feel like it's a really insensitive thing to fast forward a divorce," said the TV star, despite continuing her love story with NBA star James Harden.
According to the website TMZ, doctors do not guarantee a fully recovery, as Odom has many cognitive difficulties, to the point that sometimes fails to recognize family members or old friends and he has not evolved much in recent weeks. 
Click to read more
and watch the video
or