Empire Star Rafael de La Fuente: The Boyfriend's Back
He was gone but now Rafael de La Fuente is back and causing trouble on the Fox Series.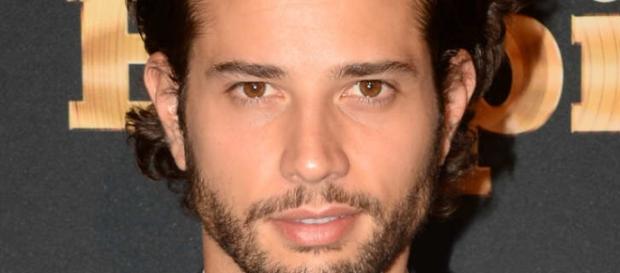 The gorgeously handsome Rafael del la Fuente is no stranger to TV soaps, having starred in the telenovela Mas sabe el diablo (The Devil Knows More) and on Aurora. Now the Venezuela-born actor has returned to Empire as Jussie Smollet (Jamal)'s main squeeze Michael. Sounding relaxed on the phone, la Fuente graciously filled me in on what to expect now that he's back, what he did last summer and even his views on diversity on television.
Interview with Rafael del la Fuente
So what brought you back to the show?
I always knew I was coming back because Lee (Daniels) had told me when we were shooting the 1st season.
It was just a secret until now! :D
Can you give a hint about how your character will fit in?
Jamal is running things, at the end of season 1 we find out that Luscious has picked him as his successor.
The audience is going to have to tune in but all I can say is: It's going to be a different dynamic, there are going to be steamy moments and it'll get messy.
Will you be more visible on the show, not just as Jamal's boyfriend?
I got meatier scenes this season for sure. 
In the beginning, did you have any idea that Empire would be so popular? 
I knew that it would have an impact because there was nothing like it on TV. But I think no one expected for it to become the massive pop culture phenomenon it is today. Very grateful.
What were you involved in professionally during your time away?
Worked on some personal projects. Did commercial and voice over work, etc...Hustled baby, hustled... #actorlife HA!
Also, when you have down time, what are some of your favorite thing's to do?
Love traveling! I'm also very active, I like outdoors activities like hiking, the beach, I work out a lot.
I'm also a big foodie! I study my craft, go to the theater, watch movies, etc...
Coming back to the show, what is your schedule like?
Not one day is the same as the other. A lot of traveling, studying lines, I try to fit working out into my daily schedule too.  
What's it like on the Empire set (any anecdotes about fun, wacky times appreciated)?
It's the most fun I've had on a job. It's like a big, crazy, fun family. Jussie and I are always joking around not taking each other too seriously, cracking jokes all the time. Taraji is larger than life and comes up with the best one-liners on the spot, often taking us by surprise; it's hard not to laugh...
Who do you spend most of time with when not shooting scenes?
Jussie, Gabby, Kaitlin and Azmarie (Livingston, America's Next Top Model). We are always hanging out, cooking, chilling at the pool, etc ... they're amazing friends and I'm so lucky to have them.
You're with Sofia Vergara's management company. Have you met her?
I haven't yet but I'm sure soon I will.
We've both been SO BUSY. 
What does it take for diversity to become the norm rather than the exception?
Networks need to understand that the audience is more diverse than not and they want to see themselves represented on the screen. The massive success of Empire is testament to that. 
Are you now recognized by fans and if so, what do they say when they see you?
Yes! I love when people show their love. They say all kinds of things, mostly that they want me back! It's humbling and I feel so much love and gratitude.
Click to read more
and watch the video
or