Paul Simon makes surprise appearance on Late Show with Colbert
Booked as tribute act "Troubled Waters", host Colbert joined Simon in song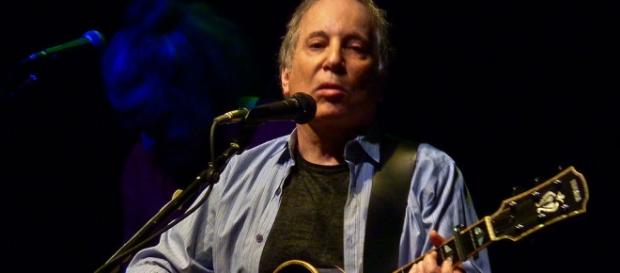 Stephen Colbert, after a shaky opening week – including interviews with major Hollywood stars like George Clooney and Amy Schumer and political heavyweights former Florida Governor Jeb Bush and Vice-President Joe Biden –  wrapped up with first week as host of Late Night with a special musical surprise. Paul Simon arrived unannounced with his full touring band to perform on the show. 
Troubled Waters Band
Touted on their website as "The World's Preeminent Paul Simon Tribute Band", Troubled Waters had the web buzzing as to why the high-profile late night show would book a cover band as its first musical group – Kendrick Lamar and Toby Keith played the show earlier in the week as solo artists.
The rouse continued throughout Friday's episode, with Colbert asking the group's frontman if he had met Paul Simon previously. The man responded "not technically, no", and shyly referred to the host as "Mr.
Colbert", before the host fulfilled his lifelong dream of joining in on the whistling solo of Simon's Me and Julio Down By the School Yard.
The audience, obviously let in on the joke, cheered wildly as Colbert shaked, shimmied, and sang alongside the music legend. 
Following the commercial break, the frontman joined Colbert on the interview couch where the singer was introduced as Alvin, with the host asking, "can we call you Al?" in reference to Simon's hit song from 1986. The pair exchanged a puns and song-related jokes before Simon eventually sang an acoustic American Tune as the credits rolled.
Stephen Colbert and David Letterman
Taking over from David Letterman, Colbert announced his plans to host The Late Show more than a year before his first show on Tuesday, September 8. After much speculation about his ability to connect with guests and audience without the trademark goofy pundit character he had become known for as the host of The Colbert Report, reviews have been mostly positive for the funnyman's transition to network television.
Viewers seem to be responding positively, as well; The Late Show with Stephen Colbert premiered with 6.6 million viewers and shows throughout the week were up 65% compared to Letterman's show at the same time last year.
Click to read more
and watch the video
or