New Celebrity Baby Girl Welcomed by Evan Ross and Ashlee Simpson
The celebrity couple welcome their first baby together, Jaggar Snow Ross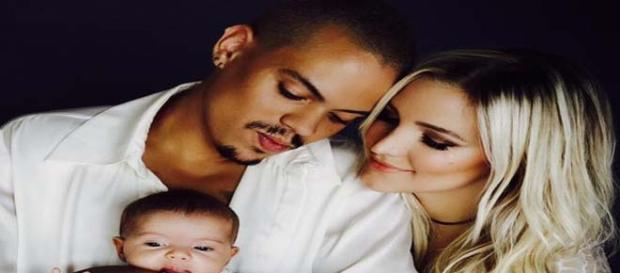 Followers on Instagram and Facebook were thrilled when a new celebrity baby girl was shown off by her proud parents. Hunger Games star and singer Evan Ross and "Pieces of Me" singing star Ashlee Simpson shared the first released photo of their new daughter, Jaggar Snow Ross on Instagram. Jaggar was born on July 30, 2015 and this is the first photo of the baby released to the public.
Simpson told followers that she needed to brush up on some diapering skills since her new daughter comes six years after her first child, but that she was up to the task and doing well with the new baby.
Parents Thrilled by New Daughter
Both of her parents seemed thrilled and awed by their new celebrity baby girl, as they posted how much they loved their new daughter and that she was a blessing to them both.
She is the first child for Evans, and the second child for Simpson. Simpson's first child is six year old son, Bronx, who she had while married to Pete Wentz, the Fall Out Boy bassist. Simpson and Wentz were married in 2008 and divorced in 2011.
New Celebrity Baby Brings Joy to Relationship
Evans, 27, and Simpson, 30, began their relationship in June 2013 and were engaged by January of the following year. They were married in August 2014 at Ross' mother, Diana Ross' estate in Connecticut. Four months later the couple made the announcement of Simpson's pregnancy. After the birth of their new celebrity baby daughter, Evans gushed about how much he loved both her and his wife.
Big Brother Excited, Happy About New Sister
Additionally, her new big brother Bronx was said to also be very excited about having a baby sister and said he already loves her.
Simpson too, gushed about what a great daddy Evans is, saying she loved him and that he was the best daddy in the world to little Jagger.
Bronx is said to have told Ashlee that he is glad the baby is a girl, as Bronx's father, Wenzel and current girlfriend, Megan Camper, gave him a baby brother in January of this year, so now he has different sex siblings with the new celebrity baby to look up to him in the future.
Click to read more
and watch the video
or