Stephen Colbert takes Late Show to the big screen
Former Colbert Report host premieres Late Show trailer, to air across USA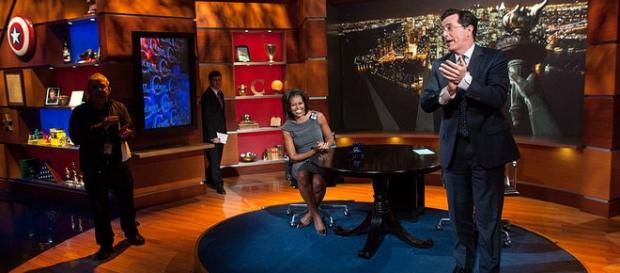 When Stephen Colbert signed off from his eponymous late night Comedy Central show, The Colbert Report, last December, there was much speculating as to how he would handle his new gig replacing the venerable David Letterman, as host of the Late Show on CBS. 
Colbert has kept mostly mum on the issue, and almost disappeared from the spotlight entirely for more than six months to prepare for the role. Then in July, the comedian appeared unannounced in Michigan to host "Only in Monroe" on Monroe County Access Cable Television to interview rap star Eminem.
The clip quickly went viral, with Colbert feigning little knowledge about his guest, and may hint at elements of an aloof character for his future hosting spot -- the video was posted on Colbert's Youtube channel, not that of the public broadcaster's.
Later that same month, he used the Late Show's Youtube channel to post a week-long web series called, "Lunch with Stephen," saying he "wanted to get to know [his] audience a little better," while eating lunch, (and planning crimes).
Last night, (August 6,) Colbert popped up on the finale of The Daily Show with Jon Stewart, going off-script to deliver a speech thanking Stewart for his legacy of professionalism and sincerity. In an episode garnering some 3.5 million viewers, the Colbert-Stewart exchange became the most-Tweeted moment:
"We owe you because we learned from you. We learned from you, by example, how to have a show with intention, how to work with clarity, how to treat people with respect," Colbert said. "You are infuriatingly good at your job, and all of us who were lucky enough to work with you for 16 years are better at our jobs because we got to watch you do yours, and we are better people for having known you."
Beginning Friday, August 7, Colbert will give audiences a taste of his new Late Show persona by starring in a commercial trailer for the show.
The trailer pokes fun of 3D and CGI technology with a limited budget and will be playing across America at AMC, Regal, and Cinemark chain cinemas as well as in 35 smaller circuit theatres. 
Stephen Colbert's turn as Late Night host begins September 8, and it has just been announced that his first guest will be Hollywood superstar George Clooney.
Click to read more
and watch the video
or