Kirk Douglas is distributing his assets
Douglas and his wife give their assets of 80 million dollars until the last cents to charity.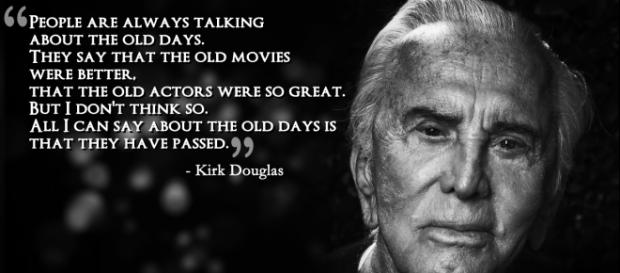 Kirk Douglas grew up in New York with his Russian immigrant parents, and he has come a long way to become one of the legendary stars of Hollywood. The protagonist of Spartacus and father of Michael Douglas, who has also had a stunning career, never forgot where he came from.
"It often occured that we barely had anything to eat, but when a beggar knocked on our door, my mom always gave them a few bites of alms. We have to take care of each other – she said, and this teaching of hers has always been in my mind" – Douglas said to The Hollywood Reporter magazine.
Besides his job as an actor, Douglas founded a production company in 1955, the income of which has made a significant fortune for him during the years. Anne Douglas, the actor's wife dealt with the financial issues of the company, and when ten years later Douglas asked how much many they had, he almost got a heart attack.
"When I told him we earned 80 million dollars, he immediately said that we had to give it away" – Douglas's wife remembered, with whom they have been married for 61 years.
The couple has supported different institutions and issues through their foundation called Douglas Foundation with 50 million dollars. Among other things they founded a scholarship for disadvantaged and minority students at Douglas's former university, St. Lawrence University. They redecorated and revived a cinema (Culver City's Kirk Douglas Theatre), and supported a children's hospital in Los Angeles.
In addition, the couple spent money on building altogether 408 playgrounds in the school districts of Los Angeles, and they founded an institution, Anne Douglas Center of Women, which gives shelter to homeless people.
But they spent the most money on their foundation called Motion Picture & Television Fund, which financed the building of the institution, Harry's Haven.
The caring centre which is named after the actor's father is for patients who suffer from Alzheimer or other types of dementia. When it turned out in 2013 that the centre is overloaded and cannot accept more patients, they decided to broaden the building with a new two-story wing. Kirk Douglas Care Pavilion was opened in December 2015, on the actor's 99th birthday.
"When I see that the foundation's manager is calling me, I just ask: How much money is needed?" – Anne Douglas told the magazin's reporter with a laugh, and added it feels great to be wealthy, but giving it away is a thousand times better.
Click to read more
and watch the video
or