Scott Disick returns to Las Vegas, says he's fine after split with Kourtney Kardashian
Scott Disick breaks his silence after split with Kourtney Kardashian, says he's fine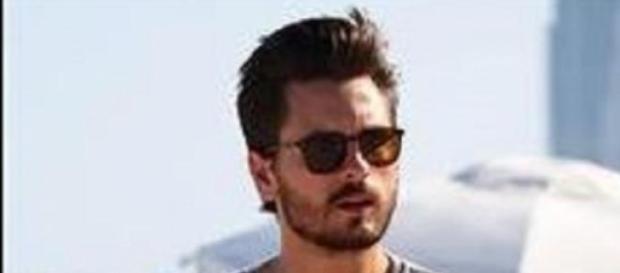 Just three weeks after splitting with Kourtney Kardashian, Scott Disick returned to Las Vegas to live it up and was treated like a king by everyone (according to E! Online, he is called "Lord Disick" there).
After previously cancelling past appearances at 10AK nightclub at the Mirage Hotel and Casino in Las Vegas, he made a celebrity appearance Friday. Scott appeared to be in the best of spirits after breaking it off with the mother of his three children, Kourtney Kardashian just three weeks prior. The 32-year-old told reporters there that "You got to take every day, a day at a time, right?"
Scott Disick and Kourtney Kardashian have three children together including 5-year-old Mason Disick, three-year-old Penelope Disick, and baby Reign Disick who is now 7 months old. The couple have been on and off again for most of their relationship and they were seen together having lunch on Thursday with their two oldest children.
Disick seemed like nothing happened, and seemed very happy to be where he was. Although he has been fighting substance abuse for quite some time now, he was seen sipping on water while at the nightclub with friends. He even danced with partygoers and posed with fans for pictures.
According to The Spec, Disick said he was very excited to be at the club since he missed earlier appearances. Although he was happy and even posted a photo on Instagram showing where he was and captioning the photo with "This is what I need right now" those who saw this post on Instagram posted angry messages at him. One person posted back saying,"Go take care of your kids, not celebrate the fact that you don't." Another one posted saying, "What you need is to get a grip on your life and take care of your responsibilities instead of feeling bad for yourself." It seems fans are very angry about the split between him and Kardashian and how he was cheating on her.
Meanwhile, Kourtney Kardashian posted a photo on Instagram with a caption that said: "Scoobs in bed with my boy. #perfectfridaynight." She spent Friday night at home with her children watching cartoons.
What do you think about Disick partying it up while Kardashian is at home taking care of their children? Sound off with your opinion in the comments below and let everyone know what you think. 
Click to read more
and watch the video
or