Folk-pop singer Ana Free has a new EP and it's all about California
'Say it to me' is the first single from Ana Free's 'The Weight of the Soul', slated for release in September.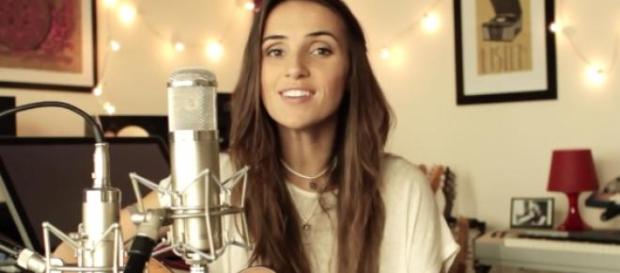 There's never shortage of inspiration in California to feed an artist's creative desires, and that's all too evident in decades of songs about the golden state. Newcomer Ana Free, a British-Portuguese singer living in Los Angeles for two and a half years, felt that deep connection and everything she experienced will transpire in a new EP, slated for release in September. It's called The Weight of the Soul, produced by Argentinean music producer Rodrigo Crespo, and features five songs, one of them suggestively titled California. The first single is Say it to me, a collaboration with Costa Rica-born Debi Nova, who was nominated for Best Contemporary Pop Vocal Album at last year's Latin Grammy Awards. 
"Los Angeles is a city of dreams.
Also, a city of a lot of lost, broken dreams," she tells us. "It matters what street you live in, what car you drive, there's so much ambition. So many artists, it's quite intimidating." As an independent artist since the inception of her career on YouTube, in 2008, Free manages everything, from the artwork on the album to negotiating gigs and managing her online persona.
Her fanbase has been supporting her since the beginning and was involved in the making of the debut album, To.ge.ther, released in 2013 after a successful crowdfunding campaign on PledgeMusic.
"The Weight of the Soul is kind of poetic. These songs are a screenshot of where I am, emotionally, after this transition." She's talking about moving from Europe to California and enduring the cutthroat business of music and entertainment in LA. Regarding her new sound, she describes the EP as "folk-pop," with drums, mandolin and acoustic sessions thrown together. "It's way more mature. I grew up a lot living here."
With over 100,000 subscribers on YouTube, she remains a challenger in an industry where everyone is trying to get a piece of each other. No manager, no label, just her and her community of fans watching her videos and going to concerts.
The Say it to me single, which will get an official video pretty soon, is meant to be a fun, danceable tune for this summer's soundtrack, and fans have been praising the new song. It has this freshness to it that perfectly captures Ana Free's spirit, as well as the adventurous ways of a self-made artist.
Click to read more
and watch the video
or