Cobain: Montage of Heck is a memory of an artists' suffering
From the film we can get to know the singer's diary, notebook, marginal doodles and the personal notes written by him.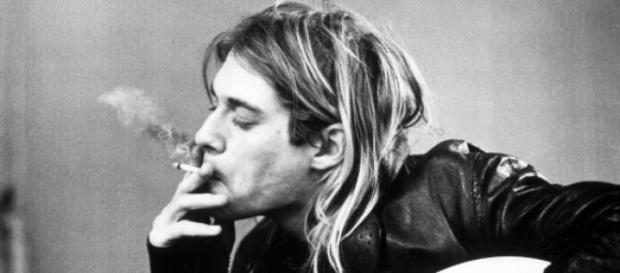 The musical portrait film Cobain: Montage of Heck, released on DVD in late April, doesn't seek to introduce the star who died at a young age but rather to understand him. From this complex and imaginative documentary we can know everything about Kurt Cobain in a way that he would have probably shared it.
This is a move of Cobain's memories. Montage of Heck is the first biographical film about Kurt Cobain  made with the contribution, personal participation and the total support of the family.
Even the singer's wife, Courtney Love, didn't have a word in the final editing.
The film starts before the birth of Cobain, with the memories of family members, parents and his step-mother.
 The 21 years since the singer's suicide may have smoothed the memories but it's amazing how sincerely the relatives talk about themselves and their relationships with each other and young Kurt. 
As we move forward in time, after the childhood photos/videos in a Batman-cape, we  see the star as a teenager, then as a young adult. Along with the parents, we get commentary and mimrories from Cobain's sister, his ex-girlfriend, childhood friends and co-musicians.
And finally, his muse, his wife, the mother of his child --  Courtney Love herself. By contrast with everyone else in the film, Love's comments seem the least honest. 
Slowly a picture is drawn of  an unhappy boy, whose character was finally determined and hurt by  rejection, which he got in an early stage of his life.
But the sincerity of Montage of Heck is limited: the film represents the unavoidable, terrible end in an aesthetic and low-key way.
This film would not be enough to seem personal and unique by its sincerity.
Cobain's artist ambitions are well-known: he had an outstanding talent even in his childhood; the producers of the film make the star's adolescence and later drawings - the more serious ones and simple sketches as well - into moving clips. For example, there is a meaningful episode of the star's troublesome adolescence. It came to light that he had already wanted to kill himself that time.
The movie proceeds by reminiscences. Mostly it is a memory or a series of memories of an artist who suffers. "Here's the man, who suffered," even if he caused most of his pains himself.
Click to read more
and watch the video
or