Beautiful Salma Hayek never grows old
Some awesome photos were taken of the 48-year-old actress, who told about the secrets of married life to her fanatics.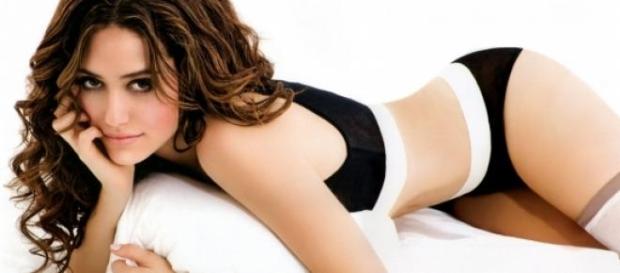 Patrick Demarchelier took photos of the beautiful Mexican actress, Salma Hayek, for Allure Magazine. In these pictures, she was posing half naked and wearing a lace bra. In the beginning, she felt a little embarrassed, but later on she didn't feel that way when pictures were taken of her wearing a bra, or even when she seemed naked in the photos.
She found love at the age of forty-two
The actress feels great in her marriage, and she only regrets that as a young girl she didn't hope that she could have found happiness.
During the photo shoot, she told heartfelt things like at a young age she didn't believe that she could find the perfect man. So she was often worried and got into relationships that she shouldn't have started.
Of course, it is always easier to be wiser later... It is the same in the lives of Celebrities.
The Mexican actress - nominated for an Oscar for the movie Frida - got married at the age of forty-two to the billionaire Francois-Henri Pinault, with whom she had already had a daughter.
Although it is known that this relationship didn't go smooth, the actress thinks that it depends on the kinds of problems whether couples stay together or not.
So what is the secret of a good relationship?
The actress has the answer for this question too. She agreed with her husband even before the wedding, that she would keep her financial freedom, and she thinks that this kind of independence also contributes to their balanced relationship. However, Hayek didn't go into details about it. She might think of a separate credit card which she uses to buy new clothes or is it a money box that she opens up year by year? The fanatics would have probably liked to know the answer.
Work should not be the number one priority
According to her, she never spent longer time apart from her daughter and husband, than two weeks. Everyone knows about the beautiful Mexican, that she is extremely family-oriented in spite of the fact that she lives in the world of celebrities. After the birth of her daughter, Hayek never missed shootings, but her husband encouraged her to get back and show what she is capable of.
Message to the past
If time travel was possible as in the movie trilogy Back to the Future, Salma Hayek would send the following message to her younger self: "Calm down! You will have a wonderful husband, who will adore you. If you believe in this, you can spare a lot of dramas in your private life".
Click to read more
and watch the video
or