A Right Royal Rebound: Kate Middleton and her little Prince George
Kate Middleton and her little Prince George are bundles of energy just six weeks post-pregnancy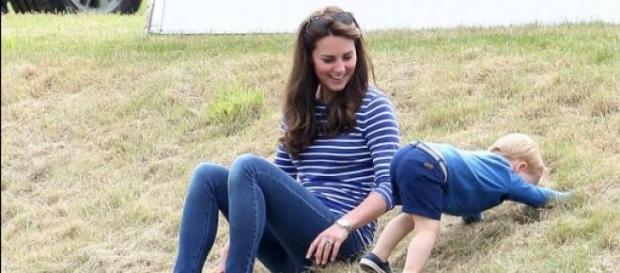 Royally clad in timeless skinny jeans, and trusty high-street striped t, Kate Middleton's enviable post-pregnancy figure could be seen rollicking around with her smiley-faced little Prince George in tow last Sunday at the Gloucestershire festival of Polo in Tetbury, England.
All eyes were on the pair, as the Duchess of Cambridge, 33, who gave birth to Princess Charlotte just six weeks ago - https://uk.blastingnews.com/london/2015/05/charlotte-elizabeth-diana-the-legacy-continues-00378899.html - playfully chased her 23-month-old triumphant toddler, who endeavoured to run up the grass verge, elude his mother's protective hand, was enticed by the polo mallets, and even ventured to try his foot at kicking one of the balls back towards the field where his father, Prince William, played in the charity match.
The cherubic blonde toddler looked every bit the blossoming Prince on his family outing with Uncle Prince Harry, and Grandfather Prince Charles; "the adoring family looked on", the Daily Mail reports, "proud Kate pointed to her husband as George watched his father earnestly".
The family gathering was worlds away from the formal decorum of the former day, where Prince George was the focal point on the Buckingham Palace balcony to mark the Trooping of the Colour. At the Beaufort Polo Club, both William and Harry sported casual chinos and polo shirts, while among the royals was Zara Philips, husband Mike Tindall, and their daughter, Mia Grace. The event marked a fun family day out, as the royals - it might be said - put aside their royalty for a few hours or so: "Princess Anne's son Peter was spotted chatting to Prince Charles, while his wife Autumn swung their children, Savannah, six, and Isla, three, around in circles. At one stage, Peter threw an exhausted looking Isla over his shoulder and marched across the lawn, his family in tow", the Daily Mail delighted.
Granted, the elephant in the room is Kate's slender secret, as USA Today labels the Duchess's body transformation as "the most superhuman pregnancy rebound ever". Indeed, having given birth on May 2nd to her second child, Princess Charlotte, Kate's slim figure is an object of admiration by any standards. People Magazine claims that the Duchess has been working with a London-based personal trainer and eating a diet of full organic fruits and vegetables, while others claim that Kate merely stayed active throughout the 9-months to ensure that the post-pregnancy weight shift would not be such a chore. Either way, one might propose that no speculation is the best kind: the maternal simplicity encompassing Kate Middleton and her spectacular little prince at play is a sight to subdue all speculation…two bundles of energy…let's just put it down to a right royal rebound!
Click to read more
and watch the video
or