Will the next NASA administrator be Jim Bridenstine or Newt Gingrich?
Rumors persist of a possible space policy meeting between the former speaker and Vice President Pence.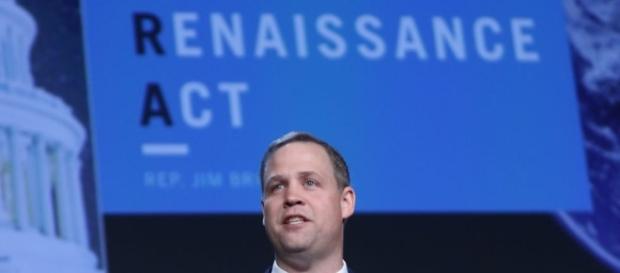 The identity of the next NASA administrator has been the subject of speculation since Donald Trump was elected president. The name most mentioned is that of Rep. Jim Bridenstine, R-Oklahoma, who is actively lobbying for the position. He has been interviewed twice by White House officials. However, no official indication has been made as to who will lead the space agency or when such an announcement will occur. Undeterred, NASA Watch's Keith Cowing has published a couple of cryptic tweets that is supposed to suggest that Bridenstine is not a shoe in and that another possible candidate is in play.
Newt Gingrich maybe, possibly to meet with Mike Pence
The first tweet states, "That meeting about space policy with Mike Pence - and maybe @newtgingrich - is apparently happening soon - or maybe it's not happening." One cannot get vaguer than that.
To be sure, any person in authority would profit by having a meeting with Gingrich about any issue, such is the breadth and depth of his thinking on many subjects. Gingrich has a lifelong interest in space policy, and one would really love to be a fly on the wall for such a meeting.
What about Bridenstine?
The second tweet states, "The notion that @RepJBridenstine is a shoe-in to be picked as #NASA Administrator is no longer certain due, in part, to self-promotion." Cowing does not elaborate on anything resembling details, including what the other part is and who is telling him these things. The idea of the Trump administration being adverse to self-promotion is a little too precious in any case.
Who is most confirmable?
Cowing is clearly implying that Newt Gingrich is in play to be NASA administrator. In his favor is the fact that the former speaker has a great deal of familiarity with space policy issues and has some cache with new space advocates.
Not in his favor is the almost certain fact that Gingrich is not confirmable. His vision for the role of NASA is rather radical, involving as it does the cancellation of nearly all of its programs, especially deep space exploration, and their replacement by prize competitions and commercial space subsidies. Also, Gingrich has never expressed much interest for appointed office.
Bridenstine, on the other hand, prefers a more balanced approach between NASA and commercial space, envisioning the two working in a partnership, relying on the unique strengths of each. He has offered reform legislation that covers NASA, commercial space, and the military. Bridenstine Is popular at both NASA and commercial space companies. Thus of the two men, he is still the odds-on favorite to be the administrator of NASA, whenever such a nomination takes place. #Newt Gingrich #Jim Bridenstine #Vice President Pence