Why New England Patriots' fans should be very worried about Rob Gronkowski's surgery
Rob Gronkowski reportedly will have surgery to repair a herniated disk. Here's a look at some other athletes that had similar problems.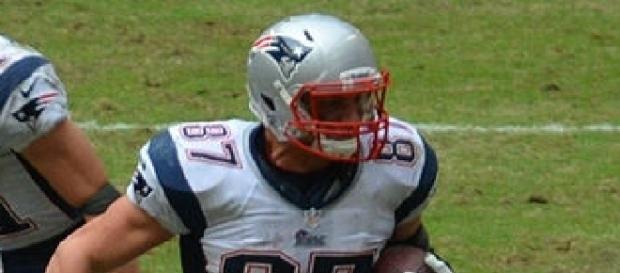 #NFL.com reporter Kevin Patra wrote on December 1st that Rob Gronkowksi, a key player with the New England Patriots, will be missing more time than expected. According to Patra "The New England Patriots were dealt a dose of brutal news Thursday: Rob Gronkowski's back injury was worse than originally thought." As a result the "tight end will undergo back surgery on Friday for a herniated disk and be out several weeks."
Injuries are often "worse than originally thought" and since Rob Gronkowski is such a key player on New England, Patriots' fans may be worried about NE's declining chances of playoff success this season. Since return dates are often ambiguous, let's look back on some other athletes that recently have had herniated disk problems and surgery to get an idea of what "several weeks" of missed action might mean.
NFL's J.J. Watt missed over a month
J.J. Watt of the Houston Texans is a player that could be looked at. Back on July 21st Chris Wesseling, also of NFL.com, updated his injury status after Watt "underwent surgery to repair his herniated disc." The time table on Watt was noted as eight weeks as "the best-case scenario" at that time. Watt almost missed the entire pre-season before appearing in three games to start the regular season in September. Watts' recovery time did did not amount to eight weeks from July 21st however, in late September the defensive expert with the Houston Texans re-injured his back and he has not appeared in a game since.
David Wright of the New York Mets is another athlete in 2016 associated with herniated-disk problems. Dan Martin and Mike Puma of the New York Post wrote on June 16th of this year that "David Wright decided to go through with what seemed to be inevitable, opting to undergo surgery...to repair a herniated disk in his neck." Wright's herniated disk was in a different location than where Rob Gronkowski's injury currently is.
Furthermore, Wright is more advanced in years. However, the Mets' player did not return in the 2016 Major League Baseball season despite the fact that the surgery was early season. He did not appear in a game after May 27th and there was plenty of buzz about possible retirement at the time of his injury (Ebenezer Samuel/New York Daily News).
New England's betting odds lengthened
Injury comparisons certainly have to be taken with a grain of salt. Every individual is different and injuries that sound similar on medical reports could have important differences inside the body. There's also a matter of what the media are not being told. However, "several weeks" of alleged upcoming missed time for Rob Gronkowski certainly doesn't bode well for New England's chances and some betting markets appear to have reacted. The Patriots remain the favorites to win the Super Bowl with all sportsbooks that I consult (eg. bet365).
However, William Hill and Betfred both lengthened New England's odds to 5 to 2 to win the Super Bowl.
The former sportsbook shortened the odds on both the Oakland Raiders and the Pittsburgh Steelers, two teams that may have an easier path through the AFC now. Betfred conversely shortened their odds on the Dallas Cowboys to win the Super Bowl, the team that is considered the favorite in the AFC. Updates with 'Gronk' are pending, but things news for the Patriots definitely took a turn for the worse on Thursday. #RobGronkowski #NewEnglandPatriots