The swan song of the Obama family's last Christmas in Hawaii
Obama is celebrating Christmas in Hawaii as a last hurrah with his family.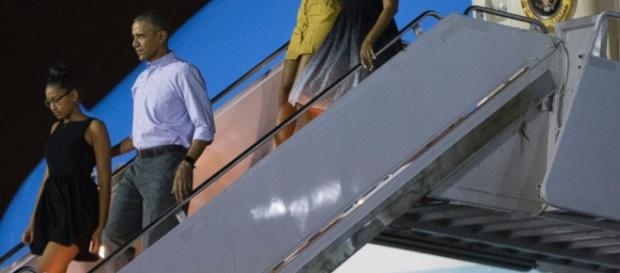 President Barak #Obama will relinquish his office on 20 January 2017. He is less than a month away from that date. This year like last year Obama will spend his #Christmas holiday break in Hawaii, the place where he spent much of his childhood. Obama will as usual fly in Airforce One, the presidential plane with his family. It will also mean curtains for the end of the Obama period that marked the first time an African-American ascended to the presidency of the United States.
Christmas in Hawaii
Obama and Hawaii are intertwined as he was born here. Obama will spend time lazing around and play golf as well visiting some favorite eating joints.
He will stay in Kailua about 30 minutes drive from Waikiki.
Plus and minus
At Hawaii Obama will have plenty of time to introspect and maybe he will feel that he could have been more decisive in many matters. The fact is the period of Obama saw the rise of the ISIS, that many-headed hydra that is now becoming difficult to slay. He was also not able to gauge the intentions of China which is emerging as a formidable challenge to the USA in the geopolitical scenario. But there is also no doubt that he reached out to opponents in many matters. His hand of friendship to Cuba and burying the hatchet by visiting Hiroshima will outlast him. The Japanese premier Abe Shinzo has reciprocated and along with Obama will visit Hawaii on 28 December 16, as did president Raul Castro the leader of Cuba.
Last word
Obama worked under a severe handicap as Congress did not always support him.
Perhaps his achievements would be better if Congress had not been antagonistic to him.
This will be the last Christmas for Obama as president and his period as US president, as after that he will go down in the history books which will make its assessment. Christmas is a time of celebration and hope. Obama will spend this Christmas quietly visiting his old eating joints and playing golf. He will also eat shave ice at Island snow in Kailua. He will almost be like a free bird. Obama and family are visiting Hawaii on Christmas for many years and one can be sure he will be refreshed. Mostly this aspect of Obama's lifestyle of spending time in Hawaii during Christmas may not change in the years to come.