'Sister Wives' Kody Brown acts like pushy father-in-law when things don't go his way?
Is Kody Brown throwing boulders from his glass house by claiming someone else is acting immature?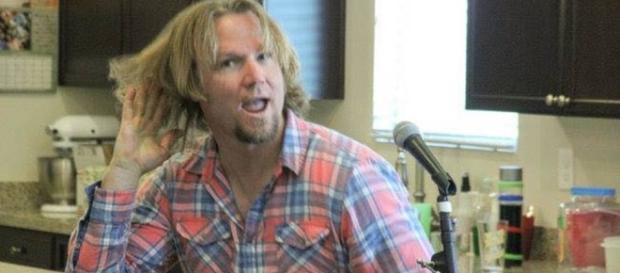 In a recently revealed "#Sister Wives" clip, #Kody Brown demonstrates once again just how immature he really is while trying to persuade his daughter's boyfriend into delaying their wedding. It is easy to see that Tony Pardon, Mykelti's soon-to-be husband, isn't having anything to do with what Kody's selling during a recent luncheon meeting between the two of them.
Kody is getting heated under the collar because he is a man with four wives who is used to getting his own way. He is so used to running the show that he doesn't quite understand how to take "no" for an answer! He doesn't make headway with his lunch date with Tony.
Lunch with indigestion!
Kody travels to St. George, Utah, to take Tony to lunch and have a chat about his daughter's stead-fast plans to wed in August. Mykelti wants to marry Tony as soon as possible, so as far as she's concerned, August it is. She has made this very clear to her father on camera. She put her foot down, stating that they are not going to wait any longer than the wedding date she picked in August.
It's what Mykelti wants
Tony, who is totally on his bride's side, basically tells Kody that Mykelti has her heart set on their planned wedding day and that's how it stays. Kody's reasoning for this delay is that the two have only known each other a short time and he thinks they still need time before marrying, reports Ecumenical News.
Mykelti decided to have her wedding only two months after her sister Madison's wedding.
Kody wants Mykelti to have a wedding she'll always remember, and he can do right by her if the two would just wait, according to Us Weekly.
'Grand December bride'
He tells Tony the best case scenario would be for them to wait until spring, but he would compromise and go with December. He then says he thinks Mykelti would "make a grand December bride." Tony tells Kody again that Mykelti wants her August wedding.
Kody is calling someone else immature!
That's when Kody speaks right into the camera and says "I don't care." He then conveys how this conversation "almost makes me laugh because it's frankly immature." While Kody's talk with Tony was first about what's best for Mykelti, it seemed it became somewhat of a competition to him as Tony stood his ground in a very cordial way.
Kody doesn't do well when he doesn't get his own way. While he was concerned for his daughter when making the wedding delay request, it seemed to take on a different form when he couldn't make headway with Tony. It was like watching a kid trying to get his mother to say yes to a new toy.
Because Tony stood by the woman he is planning to marry and respected her decision of a wedding date, he showed a maturity level not often seen in Kody. Yet, it was Kody who found him "immature," so much so, that he said he could almost laugh at the level of immaturity he was seeing. Now that is living in a glass house and throwing boulders!