MGM National Harbor: Poker Room Review
The brand new casino definitely has the splendor and grandeur of a Vegas style casino, but what about the poker room?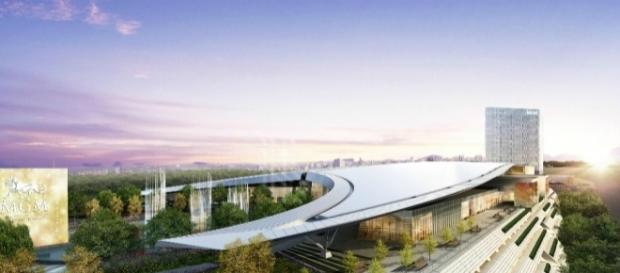 MGM National Harbor opened to a great deal of excitement. The fancy Casino was filled to capacity almost immediately after opening and has been fairly popular since then. Intrigued by what had happened, I chose to make my way down there to give the casino a glance myself. Specifically, I was there to check out the poker room.
Poker Room.
The poker room at MGM National Harbor was absolutely packed at 4 P.M. on a Thursday. I had to wait for 30 minutes before I could even be seated at a 1/3 NL table. The games at other stake levels had similar waits. But the wait time actually flew by, especially considering the fact that I was about the 15th person down on the list.
Other games that were available included 2/5 NL, 5/10 NL, 10/25 NL, 5/5 PLO, 1/2 PLO, and others. It seemed like most of the tables there were for NL games, but the wide variety of games offered there was impressive. The poker room definitely doesn't have the capacity of a casino like Maryland Live, but there is still plenty of space for poker players looking for a game. But what about the actual people playing poker there?
Atmosphere and Players.
I sat down at a 1/3 NL game and quickly realized that I was at a very difficult table after a player folded top two pair to a player with a set on the turn. It was definitely a tougher poker game than what I had experienced at Maryland Live, a casino that seemed to be full of fish. I instead struggled to get anything going against players who always seemed to know exactly what they were doing in every poker hand.
The composition of the poker table featured players that were mostly 35 and below. This was in stark contrast to Maryland Live, which offered a much older crowd. That younger crowd at MGM National Harbor was content to raise hands like 6 4 of hearts, very different from what I had experienced at a far more conservative Maryland Live.
The main problem with the poker room at MGM National Harbor was the atmosphere. The waiters never seemed to make an appearance at our table and it was almost impossible to get a drink. For now, it certainly seems like the casino is understaffed and should strive to hire more employees. If you live in the area, you have an excellent chance thanks to their commitment to hiring locally. A good waiter could easily make a significant amount in tips if he/she were smart about it.
The Building Itself.
The most striking thing about MGM National Harbor is the glitz of the building itself. The glamorous casino perfectly emulates what a casino in Vegas looks like.
Guests who enter the building are immediately greeted by a giant statue that would make even LeBron James feel small. The size and scope of the casino are massive, and it's pretty intimidating for a first time visitor. The giant building seems to extend forever into the sky and the parking garage is also gigantic. Overall, everything about this place is just huge.
Final Commentary and Review.
If you're looking to play poker and make some money, I can't recommend MGM National Harbor just yet. The crowd is tougher than the one at Maryland Live, and you will definitely need to wait for a significant amount of time before even getting into a game on the weekend. For those reasons, I prefer Maryland Live's poker room to the one at MGM National Harbor.
If you're looking for an interesting experience, then I promise that MGM National Harbor will not disappoint. The building itself is fantastic and the scenery inside is superb. Even if you don't play poker, the restaurants and atmosphere aside from the poker room are awesome. Overall, I enjoyed my experience at but would wait until the excitement dies down before going back there to play poker again.