Melania Trump crying out for help -- what kind of help could she possibly need?
Another day, another Melania or Barron Trump story makes the headlines, this time it is Melania who may or may not be asking for help!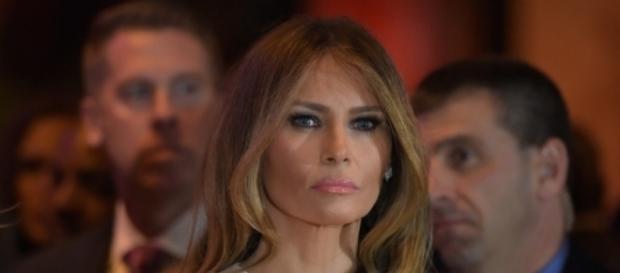 #Donald Trump can come off as a bit arrogant at times, and yes, he sometimes speaks before he thinks, but one thing most people would agree upon is the man has an undying love for his family. When the President-elect talks about Melania, he lights up, just as he does when talking about his children. So why would anyone think that Melania is crying out for help with her announcement that she plans to wage a battle against #Online Bullying as the next First Lady?
Cry for help?
Yahoo News suggests that that it is ironic Melania should make an attempt at battle online bullying, when her own husband is the "online bully-in-chief." Citing Lady Gaga, Chelsea Clinton and Anderson Cooper as a few of the celebrities who can't believe she has announced this "with a straight face."
Hypocrite?
Online bullying is usually always one-sided, where a person or group of people get together and target another person with disparaging remarks and rumors.
In Donald Trump's case, yes he has written some pretty outrageous things about people on the social media sites, but only after they attacked him first. Instead of tagging Trump as an online bully, you might say he's more of a person fighting fire with fire as he bites back.
Some saw Melania as a hypocrite when she decided to do something about the online abuse that people have endured. Yahoo suggests, instead of seeing Melania as a woman without a clue that her husband is an online bully, you might want to look at her differently. Apparently they see Melania as a woman who is possibly very aware of her husband's so-called bullying and her choice battling bullies online might just be a way of coping with "what is happening to her."
Melania is a strong woman
So just what is happening to #Melania Trump? She is not seen as a woman without a voice.
She's fighting back against false reports that circulated in the headlines a while back. Melania showed up in a Maryland courtroom yesterday at the start of her lawsuit against the people who claimed she once worked for an escort service.
There was no need for Melania to be in the courtroom for this preliminary proceeding, but she insisted. She wanted to show the court how serious she is taking her lawsuit against the Daily Mail and a blogger, both falsely reporting that she once worked for an escort service.
Not just a doting wife!
She married Donald Trump, but remained her own business woman and as far as child rearing, it looks as if Melania calls most of the shots when it comes to bringing up Barron. Yahoo referred to "a shy, retiring woman" who spoke out for the first time and when she did it was about a culture of abuse. They suggest that Melania "sounds a little bit like a woman asking for help."
Trumps are targets of online bullying
There doesn't seem to be a bit of evidence to back up these suggestions that Melania is possibly asking for help.
If she wants to stop online bullying it is probably because of all the junk that's been written about her, her husband, and their 10-year-old son Barron.
In recent weeks people have suggested that Barron is autistic and that he might be a bit too close to his mother. Then there was a picture online that was perfectly endearing, but turned into something creepy by critics. Barron, who was only 9-years-old when the picture below was taken, is straddling his mom's lap, taking her picture. Period.
SM...SMILE FOR PHOTO, MMMMOTHERRR... pic.twitter.com/EYB4vikJ5c

— Jolly Jeeves (@Jeevesmeister) December 5, 2016
Critics were brutal with this picture, calling it things like "creepy" and saying the "kid's going to need therapy," another comment suggested "you can't un-see this picture of Barron." Someone else online asked why the Trump family takes family photos that make people want to "call CPS." (Child Protective Services).
They've been victims, so she is fighting!
Melania knows a lot about online bullying, look at what she's endured with people picking on her own 10-year-old son. She's not crying out for help, she is wanting to stop this horrendous targeting of children and teenagers, which is what she said in her original announcement.