Looks like Ivanka Trump will be a cross between first daughter and first lady
Will Melania Trump remain behind in the shadows, only to morph into a face of obscurity?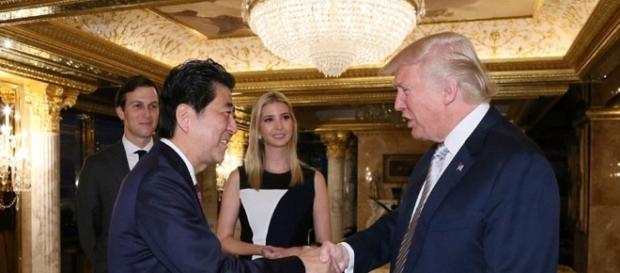 As the country continues to allow #Donald Trump to dismantle the office of the presidency to his liking, the roles his children will play are becoming increasingly blurred. Wife, Melania, has never been in the forefront or involved as much as Ivanka or even sons Donald Junior and Eric, for that matter. Oddly enough, youngest daughter Tiffany has shared almost the same amount of spotlight as the future first lady. Now, with #News of Melania staying behind in New York until at least the end of the school year and reports of Ivanka and hubby Jared Kushner house hunting in the D.C. area, one has to wonder a number of things.
It is no secret that Donald Trump seems to heavily depend on daughter Ivanka and son-in-law Jared more than anyone else in earth's hemisphere.
Sure, the real estate tycoon has a brother working for the Trump Organization along with his two oldest sons. But with all of these strange chess moves, you have to ask who is really going to be minding the store? Will the 1967 anti-nepotism law get pushed aside as Trump continues to have Ivanka sit in on White House meetings or phone calls, while Jared slips into some cushy government job requiring security clearance?
Board room meetings on Pennsylvania Avenue
Recently, former Vice-President Al Gore met briefly with Ivanka to talk climate change. However, he did stress the bulk of the meeting was spent alone with her father. Gore described his conversation with the President-elect as extremely interesting and will leave it at that. Ivanka has been a steady presence by her father's side throughout his campaign and controversies.
As for Melania, the public will have to wait and see if she will be drop by the nation's capital long enough to pick out china patterns, or if the task will fall into Ivanka's capable hands.
Intertwining, intermingling and mangling
State Department officials are already rattled by the fear of Trump's adult children assuming a position as some sort of freelance ambassadors. The warning signs are already here. Aside from Ivanka's eyebrow-raising involvements, one of her brothers is reported to have discussed with pro-Russian figures how to resolve the Syrian war. The incoming president himself suggested that his Jewish son-in-law, Jared, could conduct mediations between Israel and the Palestinians. Diplomats are beyond nervous about other countries taking advantage of Trump relative's naivety, or confusing the lines between corporate dealings and foreign policy. #Melania Trump