Donald Trump and Indian business connections
India and Trump have had an association for some time, Donald commands a marquee name that sells, and one wonders how he will be as president.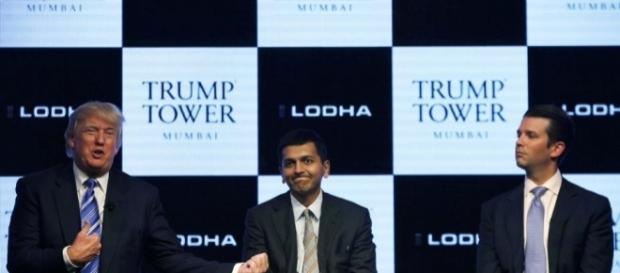 Donald Trump has won the election and now will be president of the USA.. Donald also has considerable Business interests in India. Just after winning the election he had a meeting with 2 top Indian developers. Added to this is his name as a global business brand. The question does come to mind as to how Donald will balance his business interests with the duties of the presidency. Donald has claimed that his children will look after his business interests, but it sounds a bit hollow as his children are also part of the transition team.
Meeting on November 21st
Trump had a meeting with some Indian real estate developers led by Sagar and Atul Chordia.
The meeting took place at Trump towers. There are unverified reports that the Indian duo also met the daughter of Trump (Ivanka), and son Eric as well.
Donald has big interests in India where two luxury projects in Pune and Mumbai have taken off. The Mumbai project is being built by the Lodha group which has political connections. Trump had visited Pune in 2014 and had landed at the Indian air force airfield at Lohagaon in his personal jet.
Trump is a marquee name and adds 30% to the value of any property. Abhishek Lodha has confirmed this news. It is reported that an undisclosed sum of money was paid to Trump to use his name. The meeting with Indian real estate developers just after winning the election shows that Donald is still keeping his business mind sharp.
Trump and India
Matters are moving forward as Trump has inked another deal for a luxury apartment complex close to Delhi at Gurugram with a local real estate developer.
Trump has considerable interests in India and it will be interesting to see how he balances these interests with the onerous weight of the presidency. Trump has already talked of a close relationship with India, and Hindu right wing groups are the biggest supporters of Donald Trump. This will however not be appreciated by opponents of Donald and countries like Pakistan, who are inimical to India.
It appear that Donald has not invested any of his money, but his brand name is so strong that the projects have been sold at a high premium. The builder (Chordia), who is one of India's top real estate developers has confirmed that the Trump name has tremendous brand value.