'Counting On' depression within Jim Bob and Michelle Duggar's household?
Their little girl, Jordyn, looks so unhappy as her parents wish her a happy birthday.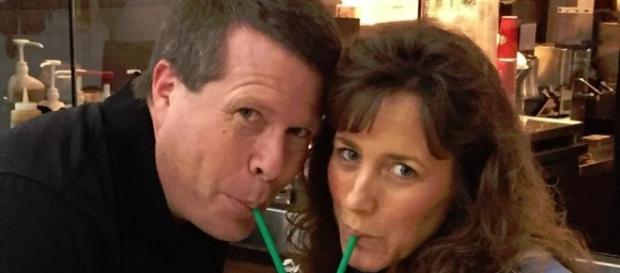 Season 3 of "#Counting On" is set to debut in 2017. While the #Duggar's focus on life off-camera, they still update fans about routine events. Their daughter, Jordyn, is now eight-years-old. Her loved ones revel at a restaurant, but her demeanor speaks volumes. As her mother, Michelle Duggar, stands beside Jordyn, their body language exudes an uncomfortable vibe. Duggar tries her best to praise her child, but her compliments fall flat. On a couple of online sites, people voiced their opinions. Is Jordyn just sad today or sad everyday? At her age, she should radiate a carefree attitude with little worry and lots of laughs. However, some boys and girls cannot experience a positive childhood due to genetic and/or environmental factors.
Unfortunately, the Duggar's believe the best route to joy is through the Bible. The book can provide hope, but therapy is essential for anybody struggling with mental illness or turmoil. Maybe Jordyn needs counseling on the side, and there's no shame in seeking help.
Words of wisdom, or not?
On #YouTube, the account Duggar Family uploaded a video featuring Duggar and Jordyn. The older woman showers her little girl with flattery, and Jordyn wears her frown like a crown. Duggar states, "Jordyn is such a loving, little helper. And she's always here to jump in and help...and she loves, loves, loves to carry little babies on her hip. And she's instant friends with a baby when she sees a baby come in the room...we are so thankful for your sweet, loving spirit." These vague comments contain little depth.
However, Duggar does raise twenty offspring, so intimate details about every son and daughter are difficult to decode, no doubt.
Duggar in depression or denial?
Jordyn may battle depression along with some of her siblings. A cause could be from a chemical imbalance and/or personal strife. Therapy and medications are assets Duggar could utilize for her babies. In the clip, Jordyn is solemn, quiet, and reserved. She doesn't even lock eyes with her own mother or crack a smile! Maybe her melancholy stems from a time out or spanking that day. Maybe she is just tired or overwhelmed from errands and/or attention. Regardless of the reason, her birthday is a milestone to celebrate. Happy Birthday, Jordyn!