Blac Chyna offered millions via grandma Kris in Dream Kardashian deal: spun rumor or ploy?
Will Dream Kardashian one day ask her mommy, Blac Chyna, and daddy, Rob Kardashian, if her name was meant to be a brand name?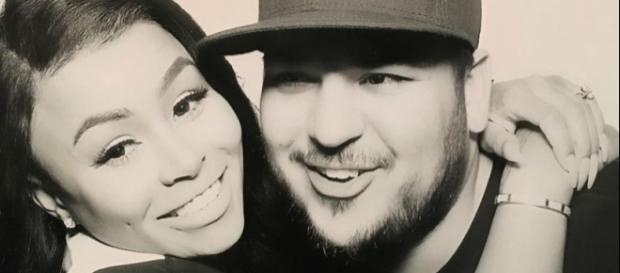 Dream Kardashian is just over a month old and there is more written about her online today than there is for some celebrities who have been around for decades. What will Dream learn about her mommy #Blac Chyna, her dad, #Rob Kardashian and her famous Kardashian family one day when she is old enough to get online and search the archives? She might be very disturbed, especially after reading a recent rumored headline that her grandmother, Kris Jenner is attempting to buy her for $4 million.
Quick sale?
That's right, buy, or purchase, this little infant Dream, or so the rumor indicates, which is reported in The Sun. Blac Chyna and Rob recently had a very short split after an argument, but they are back together.
This rumor indicates that Kris Jenner's train of thought for paying off Blac Chyna is so she'd walk away from the child and give Rob custody. It is reported Kris wants to save this baby from the frequent fighting and breakups, reports the Mirror. This seems to be Rob and Blac Chyna's lifestyle or at the very least they've made it into an odd habit.
I love my new @ArthurGeorge socks from daddy!!! @robkardashian 🎅🏼👶🏻 pic.twitter.com/SepCVGcgWo

— Dream Kardashian (@dreamkardashian) November 25, 2016
Buy off Blac Chyna
The Sun reports this rumor as having Kris Jenner thinking the $4 million might be enough to entice Blac Chyna to walk away and leave the family alone. especially Dream and Rob. While this is a rumor and one that Kris Jenner probably wouldn't waste her energy addressing, this is still a spun tale that Dream may read about herself one day.
Dream Kardashian a brand?
What is being written about Dream Kardashian today might offer her a sad look into her past if one day she does some research on herself, starting with her name. The Kardashians are a brand and she might ask her mother and father in the future if the name Dream Kardashian was picked as a loving name for her or as the perfect logo for marketing products one day.
Fur Flies
There's already an argument between the three Kardashian sisters and Blac Chyna after she attempted to trademark the name Angela Renee Kardashian. Chyna's birth name is Angela Renee, but she is not married to Rob yet. While Kardashian is the last name she intends to use once they marry, it's not hers yet. According to Hollywood Life, the three Kardashian sisters won't back down from taking legal action to stop Chyna from trademarking the family name.
Me & my Dad Bob 😍 #DreamKardashian #DreamReneeKardashian pic.twitter.com/BOYxh3flSo

— DREAM KARDASHIAN (@DreamKardasian) November 13, 2016
What she will learn
When Dream Kardashian gets old enough to surf the web and find all these tidbits about her early years, there will be a lot of explaining to do.
Hopefully by then she will realize you don't necessarily believe all you read, but hearing she once had a price tag of $4 million assigned to her, whether it is rumor or not, is going to be hard to take. Could it be that during the Rob and Chyna split Rob was so miserable that Kris wanted to help? Maybe she thought she could get custody of Dream and Blac Chyna would just go away and leave Rob and the family alone?
The Hollywood Life puts it in a different perspective that sounds much better than trying to buy a baby. They report Kris Jenner has offered $5 million to Blac Chyna if she will give Rob full custody of their child. Yes, that sounds better, but how does this make Blac Chyna feel? Rob has said she's a great mother, would she actually consider such a bizarre arrangement?
My momma 👩🏾 #DreamKardashian #DreamReneeKardashian #BlacChyna pic.twitter.com/qALrIlO0ig

— DREAM KARDASHIAN (@DreamKardasian) November 12, 2016
Is this love or a business opportunity?
The friend or insider reporting this information said that everyone knows Blac Chyna doesn't love Rob and marrying him is a way into the Kardashian family fame and money. Rob is only worth about $5 million, which is chicken scratch compared to his other family members. The mindset around offering Blac Chyna the $4 million is to get her to realize this is a good deal, so she'll walk away and get on with her life without Dream or Rob, again, this is spun from the rumor. Meanwhile Rob and Blac Chyna have posted a picture online indicating they are back together and all is well with them as they cuddle their cares away. That's for today, anyway. #Kim Kardashian