Barron Trump comes first to Melania, but at what expense?
Is Melania being selfish by insisting Barron comes first to not only her, but to the other parents of his classmates?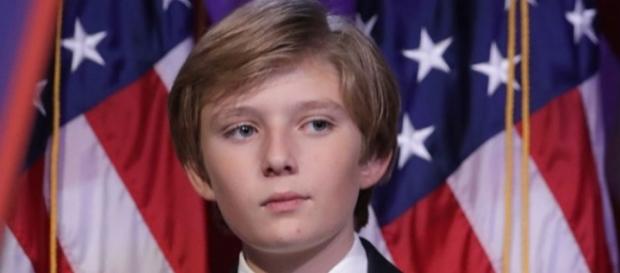 #Barron Trump was just a 10-year-old kid going to school before his dad embarked on a journey to the White House. Sure, the kid lives in a gilded tower and his school is one of the most prestigious in the country, but he was just a classmate among his peers a few months back. Through no fault of his own, he is now considered a threat to his classmates as a terrorist target.
School full of kids vs. Barron?
As Heat Street reports, parents of Barron Trump's classmates came in droves with panic in tow to a recent meeting at the New York City prep school that the youngest Trump child attends. The panic sparked a few weeks back when Melania announced that she and Barron would remain in NYC so Barron could continue his education at the prep school instead of moving to the White House in January.
Barron comes with a risk?
The meeting had about 200 in attendance which included parents, school officials and Secret Service representatives. The main concern is with Trump now being the President-elect, they fear that Barron is a target for terrorists, putting their own children in harm's way.
Trump's own words made school target?
One parent went as far as to repeat Trump's own words about taking out the family of ISIS members and claimed how that statement alone made a target out of Barron's school. The school's solution of investing more money into security wasn't an answer that sat well with some parents because that money would trickle down to tuition. The school is already the "priciest school" in the city and parents pay more than $46,000 in tuition a year for each child to attend the school.
Frustrated teachers
The fear of terror is a major concern, but the interruption from the Secret Service is another factor concerning not only parents, but teachers as well. The teachers are "frustrated" from the daily intrusion of the Secret Service members whose presence both inside and outside the school is not something you can ignore.
The school was not in good graces to begin with when it came to the neighborhood even before Barron became part of the next First Family of the nation. The limo's dropping off and picking up the children of wealthy families were tying up the area roadways. Now with Barron's train-like Secret Service detail added to the mix, things have gotten worse.
Is Melania being selfish?
Is Melania being selfish insisting Barron continue on with school in Manhattan? This school is not experienced in educating children of past presidents and all the interruptions and risks that come along with this. The Sidwell Friends School in the nation's capitol is a school well acquainted with having past president's kids in attendance.
They are equipped with the security needed and they have protocol in place for such high-profile children and the Secret Service detail that comes along with the child.
While kids should come first to parents, it doesn't mean they come first everywhere else. By keeping Barron at this school it is like saying he comes first, before the rest of the children. Barron continuing on in this school seems to be causing so much angst to his classmates, their parents and the teachers. So why would Melania insist he stay there?
All this aggravation can only work against Barron as now he's in the spotlight and his classmates are sure to know that his presence makes their parents upset. Will Barron become an outcast from his classmates over this? It also doesn't seem fair to Barron to insist he stay at the school under these conditions.
Barron might come first to Melania, but he doesn't have to come first to a school full of scared kids and parents. It is not as if the Trump family didn't realize a move to Washington was necessary if the patriarch did win the election. It might seem a bit selfish to some for Melania to insist Barron continue on at the NYC school when there is a school in D.C. that is well equipped to accommodate. It's a school that is just as prestigious as the one he attends now. #Melania Trump