Architects protest Trump's sense of place
Reaction to the verbal abuses and excesses of Donald Trump have triggered protests in various forms from writers, artists and architects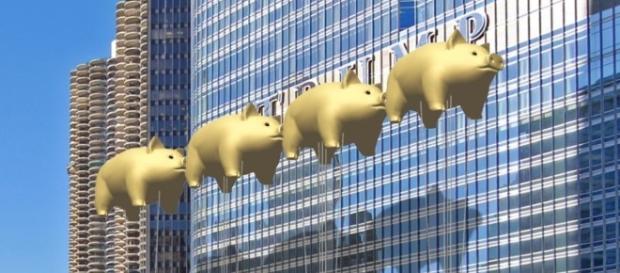 The way #Donald Trump campaigned for the presidency – verbally abusing minorities and those who disagreed with him - spurred legions of writers, including novelists and poets, to sign their names to an "Open Letter to the American People." Their letter said, in effect, that as writers they know how language can be abused and they begged voters not to support the Republican nominee. Visual artists also have been troubled by the national dialogue that Trump turned ugly - even now as president-elect. Seeking to reflect this ugliness, artists Natalie Frank and Zoe Buckman jacked up his sexist remarks on a mural at New York Live Arts titled "We Hold These Truths to Be Self-Evident." One of the "truths" is "There was blood coming out of her eyes, coming out of her wherever." Seeing such words magnified in a commemorative print-out has the effect of imprinting them on your brain.
Sign of the times
Of course, there's nothing new about artists and writers railing against the politics of their time. Daumier and Goya come to mind. But architects? Certainly not in any determined way. Enter the Chicago architecture firm New World Design and its proposal to suspend four gold-colored balloons in the shape of pigs in the air to block sight of the massive 20-foot-tall "Trump" signage on the Donald's tower in Chicago. In a written statement, the architects explain their aim: "to provide visual relief to the citizens of Chicago." Since installation of the monster sign two years ago, objections have abounded over its visual assault on the city's otherwise picturesque waterfront, which the building overlooks.
Flying over the cuckoo's nest
The designers propose to hitch the floating pigs to buoys in the Chicago River.
Calling their proposal "Flying Pigs on Parade," they say that the porkers are not only a comment on Trump's ugly campaign, like his "Miss Piggy" remarks about a former Miss Universe winner, but also on the future acts of his administration. The four pigs are said to stand for each of the four years of his presidency, as well as his excesses, described by the architects as "the gaudy style of his own gold ensconced penthouse interior."
Never say never
At this point, the sight of bloated swine bobbing in the air is the stuff of building castles in the air because it's going to be hard to get permission for such a protest. But another view of flying pigs is already in situ in the form of a giant mural painted on the façade of the New Florida Majority building on Biscayne Blvd. in Miami, titled "When Pigs Fly" by artists Rei Ramirez and Ivan Roque. The painting describes Trump as a winged oinker encircled by other oinkers to reference the age- old idiom denoting impossibility; that is, he'd win the election when pigs fly. Obviously the mural was made before the outcome of the election. But it will remain on the wall. #Art