Will Trump as president mean a stronger military?
US president-elect wants to boost manpower of the army and increase the navy warship strength, and that will entail a massive hole in the US budget.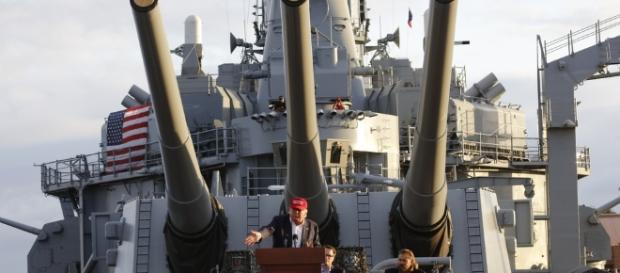 #Donald Trump is basking in the glory of a great election victory. Perhaps the enormity of his victory has hit him and he looks a little surprised. The fact that he won, despite all the dark forebodings of his opponents and the 4th estate, is a tribute to his strength. Over the election trail Donald made one point repeatedly, that he wanted to make the American #military stronger. What does it really mean?
Donald's military plans
Donald Trump is a business man but one cannot doubt his ability to understand the nuances of geo-political power. Without reading Mao's Red Book, he is aware that the US global dominance hinges on military power.
He is supportive of the military except for one program of the F-35 stealth fighter. He is of the view that as per experts the money (almost $379 billion on this machine), is a waste and the present fighters are better. Maybe he will have a look at this project and probably prune it.
The army had planned a manpower reduction from 475,000 to 450,000. Donald is not likely to go with it and the planned reduction perhaps wont take place. In addition he wants the navy warship fleet to be increased to 350 warships against the present 272, and the 308 asked by the navy. Donald is well aware that for the US to call the shots an invincible navy is a must.
Expenditure?
But there is a downside to all this as it will entail heavy expenditure. If followed through it will burn a hole in the national budget.
The expenditure on the army alone will go up by $30 billion and the navy expenditure could go up by $90 billion each year. Now where will Donald get the extra money for it? Donald is a business man and his thinking is clear. He has articulated the view that expenditure on NATO and allies needs to be cut and the participants asked to pay more. This, if followed, could save billions of dollars and may well fund the grand dream of a stronger military. He also wants to rework the many trade pacts and work them to the American advantage.
Last word
Donald Trump is a revolutionary and many doubted that he will succeed. But just like he surprised the world with a win at the elections, one can say that Donald may yet surprise his critics when it comes to balancing the budget and strengthening the military.