The movie 'Happy Bhaag Jayegee' (Happy will elope) shows love breaking all barriers
This movie straddles the India-Pakistan divide and shows the futility of confrontation as both nations have the same culture.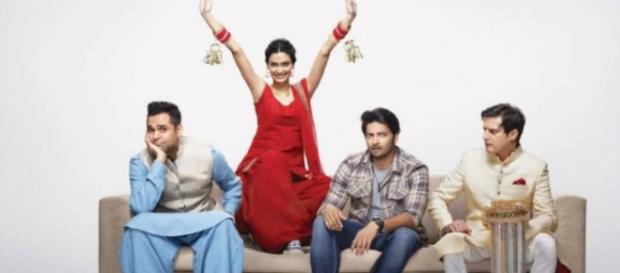 One small budget movie made in Bollywood titled "Happy Bhaag Jayegee" meaning "Happy will elope" has done good business at the box office. The film made on a budget of 1.80 crores Rupees ($300,000) has grossed over 4.63 crores ($750,000) making it a success. The film is a comedy but with a unique theme. The film straddles the two cities of Amritsar in India and Lahore in Pakistan divided by a guarded border, yet just 25 miles away from each other. It's a tale of love that covers Lahore and Amritsar and shows that despite the political hostility both nations have the same culture.
The film
The movie stars Parsi-Christian girl Diana Penty and Abhijit Deol (who is the nephew of erstwhile superstar Dharmendra Diana) plays the role of a Punjabi girl who runs away on her wedding night, as she does not want to marry the man chosen by her father.
She loves another man and by mistake crosses the border in a truck and lands in the city of Lahore. It leads to a comedy of errors as Diana enters the life of Bilal Ahmed, a rich scion at Lahore. When Bilal learns of her predicament he helps her get united with her lover, who has followed her from Amritsar. The film ends on a happy note as the lovers are united due to the efforts of Bilal who is played by Abhijit Deol. In between there are songs and chases and the singer Mika Singh makes a personal appearance with a song.
Love across the border
The film was produced, written and directed by Muddassar Aziz, and is basically an attempt to show the similarity of culture between Indians and Pakistanis. The film was shot in Lahore and Amritsar and the visuals of Lahore are beautiful. Diana looks pretty as the Punjabi girl and proves she does have ability, but she has not yet been a hit in #Bollywood.
It is the same with Deol who also has stagnated. Maybe this film will give both an opening to make a mark.
Last word
The film is moderately successful at the box office and has better business overseas where the Punjabi diaspora is settled. Punjabi's in Pakistan will also like the film which is a simple love story with India/Pakistan in the background. #Movies