The 'Hamilton' cast fiasco is exactly what Donald Trump wanted
'Hamilton' cast calls out Vice President Mike Pence, Trump uses it to his advantange.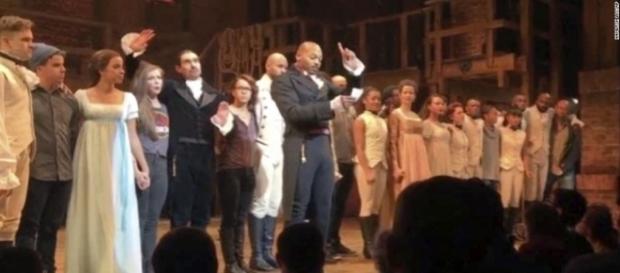 The main story over the weekend was President-Elect #Donald Trump and the cast of #Hamilton. As you may already know, the "Hamilton" cast, specifically Brandon Victor Dixon, explained to Pence that the "diverse america" that the Hamilton cast represents doesn't feel safe under the Trump administration. Soon afterwards, Trump tweeted that the Hamilton cast was being "unfair" to #Mike Pence, and demanded an apology.
Will he ever get one?
Brandon Victor Dixon later explained on Twitter that he was expressing his first amendment rights when addressing Mike Pence, and that there was nothing to apologize for. Some people thought that the Hamilton cast was out of line for their comments towards Mike Pence, while others believe that Hamilton's expression of opinion was justified.
The very next night, Alec Baldwin returned to Saturday Night Live as Donald Trump, performing a skit that Trump later called "one-sided" and "biased" on Twitter. Baldwin fired back, offering Trump advice on what he would be doing if he were elected President: "You know what I would do if I were Prez?" Baldwin continued. "I'd be focused on how to improve the lives of AS MANY AMERICANS AS POSSIBLE …"
This is what Trump wants
Do you think that Donald Trump cares about the cast of Hamilton, or about Alec Baldwin's character on SNL? No, the answer is no. Trump uses his Twitter as a distraction, knowing well that every media outlet will soon pick up the news. Instead of being worried about the alt+right cabinet that Trump is putting together, or what he actually plans to do in the first 100 days of his Presidency, we are worried about what Trump thinks of Alec Baldwin's impersonation of him.
Doesn't it seem coincidental that we know more about Trump's opinion of Hamilton than Trump's settlement in the Trump University case? Everyone seems to be consumed by their second amendment rights, but have we forgotten the first? Freedom of religion, freedom of speech, and the freedom of the press. Hamilton has the right to politely explain to Mike Pence the fears that many Americans are feeling today. SNL has the right to impersonate Donald Trump, as they've been doing for the past several months now.