Reports are Melania Trump does not want to move into White House at all
Word is quickly getting out that the first lady-elect is hesitant about moving to the White House.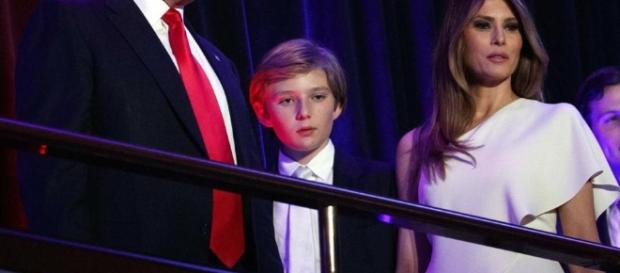 So, what else is new, right? Insiders say #Melania Trump loves her independent life and more importantly, loves living it in the Big Apple. This latest news comes after the announcement of Mrs. Trump choosing to stay in New York so that Barron, the son she shares with #Donald Trump, can finish school once her husband takes office. Never mind the fact that the entire Washington, D.C. area is filled with prestigious schools for any offspring of the wealthy elite. Three sources have said that Melania Trump does not want to live in the nation's capital. There have also been rumors of Donald Trump even seeking ways to stay at 1600 Pennsylvania Avenue only during the week but kicking back at the Trump Tower in New York or at the Mar-a-Lago estate in Florida on weekends.
Perhaps the Trumps truly were surprised by his win or this is another example of how Trump is changing democracy and way of life in the White House.
One Palm Beach source told People magazine that they didn't know if Melania would ever live anywhere besides New York. The source went on to say the former model loved her Manhattan home and independent life. This should not come as a surprise as Melania was rarely seen accompanying her husband while he was out on the campaign trail. Another source stated Melania will travel to Washington "when she can."
Will the conventional role of first lady now drastically change?
One Palm Beach social society source added that Melania did not spend a lot of time in Palm Beach except for charity fundraising events and holidays. The source believes the future first lady will show a similar pattern in Washington, noting that Melania Trump's most important role is that of being a mother to 10-year-old Barron.
The youngest child of Donald Trump currently attends a private school on New York City's Upper West Side which costs upwards of $40,000 annually.
A new empire state of mind
If this will be the case, New Yorkers can't be too thrilled as they are now dealing with a blocked traffic nightmare. Since the businessman's surprising presidential win, Secret Service has had to set up security around the family's Trump Tower home which is situated on a busy section of Fifth Avenue. For as long as Melania and Barron remain at the penthouse, the blocked traffic inconvenience will continue for merchants, businesses, etc. #Buzz