Pres. Obama, Chancellor Angela Merkel spin ideology on final European jaunt
Obama and Merkel threw ideological jabs at president-elect Trump without mentioning him by name.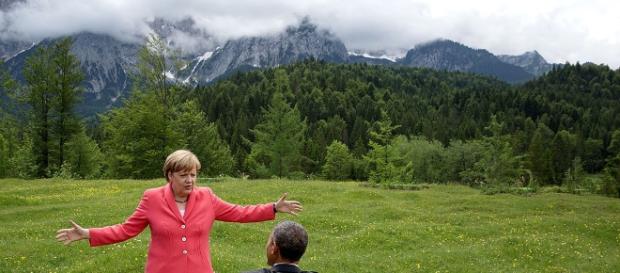 Obama spins legacy
With Hillary Rodham Clinton in post-election bunker mode and Senate yes-man Harry Reid halfway out the door, Pres. Barack Obama has traveled to Europe to dump on Trump over transatlantic cooperation, tolerance, climate change and national security. In a meeting with Germany's Chancellor Angela Merkel, he emphasized the need for freer trade and rejected some of President-elect Trump's foreign policy pledges including vetting Middle East refugees, a point of even greater contention in Germany as Merkel has allowed an unbridled influx of immigrants to settle in that country. Merkel's action have led to riots and civil misbehavior by said refugees and others, and created much controversy in Germany.
Obama uses Merkel to promote freer trade
Nevertheless, Mr. Obama is using Merkel to patch and repair his own delicate legacy even after his former Secretary of State, a longtime Democratic political icon, suffered a humiliating defeat on November 8. Mr. Obama and his German counterpart even took the time to write an op-ed piece stroking so-called free trade while recognizing there will be pain to bear for free trade's political advocates.
Obama at odds with Trump vision
For his part, President-elect Donald J. Trump has let it be known that his idea of trade is to protect American interests and bring jobs back home from overseas and border countries like Mexico. Many Americans agree with Trump and experts agree that the Republican tapped into a deep well of discontent over trade agreements gone south under Mr.
Obama's presidency and other administrations. Reality may well be on the side of Mr. Trump since the US international trade deficit was at $40.7 billion in Aug. vs. $39.3 billion as it was predicted, which amounts to about a 3% increase. Meanwhile, under Mr. Obama, the national deficit has soared by nearly $11 trillion, far more than under any other U.S. president, and even all past presidents combined.
Still, in Europe, Obama and Merkel emphasized global warming, free trade, and loosening the borders for immigrants in their joint printed mantra. Political analysts say Obama has good reason to be concerned of his legacy since the Republicans won at every level of government during the November 8, 2016 elections. Today, Foreign intelligence secretary James Clapper announced his resignation and many others will follow in the next month as Donald Trump announces cabinet-level appointments to his budding administration.
Obama/Merkel Op-Ed quite generic
Some of the rhetoric espoused by Merkel and Obama in their joint Op-Ed was generic and of the kind that glazes the eyes of television audiences and newshounds.
For example "Our countries share a joint responsibility to protect and preserve our way of life," the two leaders wrote in the German weekly Wirtschaftwoche. "It is in this spirit that we are working hard to ensure that international law and norms are respected around the globe — which remains a prerequisite for stability and prosperity." Wake now to finish reading this Op-Ed.
Trump marches to different drum
Conversely, by electing Trump, the American people stated that they want to take the country in a different direction than Mr. Obama has in mind. It would seem stability and prosperity are the very two areas where the American people disagree with the current administration, considering the 2016 election-day poll that saw Democrats trounced in state, local and federal elections. As Mr. Obama's time in the Oval Office winds down, he has focused mainly on the early release of felons through presidential pardons, and other relatively low priority tasks in the eyes of most Americans. Obama was roundly criticized for dissing America from overseas early in his tenure and risks backlash at home should he cross the line in criticizing his opponent and Republicans at large. On Friday, Obama is scheduled to meet with Merkel again as well as with the leaders of France, Britain, Italy and Spain before jetting to Peru.