Post-election protests in 2016 recall a 1949 sculpture
Sculptor Louise Bourgeois, 1911-2010, couldn't know that her "The Blind Leading the Blind" would speak for America today.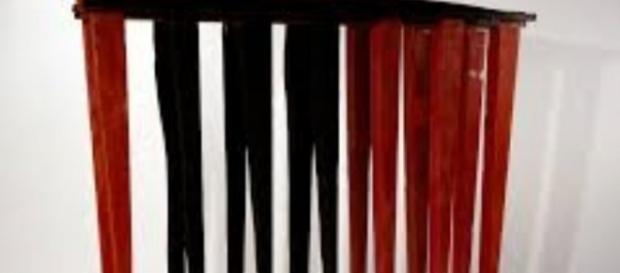 Leonardo da Vinci used to say that sculpture had nothing going for it except durability. Such thinking demonstrates that even great people can say stupid things. Sculpture has more of a bragging right than its staying power. That goes double for abstract work by French-American artist Louise Bourgeois currently on view in a comprehensive survey at Moscow's Garage Museum of Contemporary Art.
The 'spider woman' is bugging us
Bourgeois is probably best known for her giant spider "Maman," likely because it gets around so much. Her arachnids not only opened the Moscow show, but also the Tate Modern in June. The artist is so linked with it that she's known as the "spider woman." But all the attention to "Maman" has this column thinking more these days of a Bourgeois work not often talked about: "The Blind Leading the Blind," which consists simply of painted wooden posts colored either red or blue, and connected by a horizontal lintel.
Prompting the recall is the work's unexpected relevance to the current political climate in the U.S. Maybe that's because Bourgeois created "The Blind Leading the Blind" in reaction to the suppressive air of the McCarthy era. That same air of fear now blows hard over president-elect Donald Trump's appointment of Steven Bannon, former head of Breitbart News who regularly ran disinformation about Muslim Americans and otherwise pushed white nationalist dogma. For example, after a mass killing at a black church in Charleston, S .C., Bannon published a story that said, "Hoist it high and proud: the confederate flag proclaims a glorious heritage."
McCarthyism is back in a new form
Bourgeois was upset about the atmosphere of fear in the U.S. when Sen. Joseph McCarthy made baseless accusations of treasons against artists and writers.
The Trump appointment of Bannon creates a similar aura because the hire infers a condoning of racial insensitivity, anti-Muslim conspiracy theories and White nationalist ideology. And by the look of "The Blind Leading the Blind" with its line- up of posts that vary only in their color, was Bourgeois' way of saying that Americans walked around in numb lock-step – owing to their fear of McCarthyism. And, as she explained it, putting the red and blue posts together in a single band held together at their top by a shared lintel illustrates how people are fated to be destroyed together. But another way to look at this decidedly prescient sculpture is that we're all – those in the red states and the blue -- in this life together, and nothing divides us but our fear of one another.
Yet another divide
Speaking of divisions, although she was long-overlooked by the all-male Abstract Expressions, Bourgeois rejected the category of female artist, and wouldn't be at all glad about a show that just opened in Hauser Wirth Gallery in L.A. titled "Revolution in the Making: Abstract Sculpture by Women, 1947-2016. The art world needs to stop dividing art-making by gender. It's time already.