Not the right time for Texas Longhorns to fire Charlie Strong
Head Coach Charlie Strong is in the hot-seat at Texas, today's loss probably got him fired.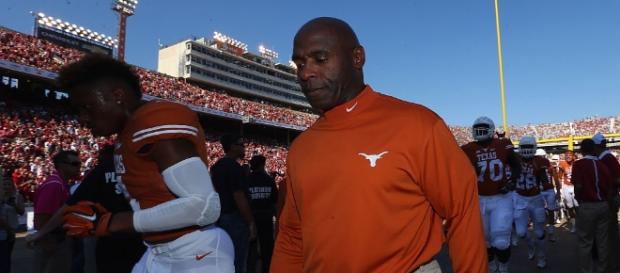 Texas Longhorn Head Coach Charlie Strong will more than likely be job hunting after dinner tonight. The Longhorns lost to TCU 31-9 in Austin earlier today in a game where the expectation was of the Longhorn players putting on an emotional last ditch effort. That effort fell far short of saving the season (along with job of Strong).
The Horns came out like a huge energy-filled balloon playing well through the first half. The second half was an energy missing mess on defense. That second half will be Longhorn #Football in the future if Charlie Strong is fired tomorrow.
Oh to be a fly on the wall
Somewhere in Austin, I suspect a meeting/dinner is being held if it has not happened already.
The topic will be when, not if they dismiss Charlie. Then quickly the focus will be shifted to who will be the next sacrificial lamb coach to be thrown to the wolves in Austin.
#HookEm #Longhorns https://t.co/N4mWEqDRVC Absurdity of the coaching carousel gets started with Texas, LSU and Tom Herman

— Texas Longhorns! (@UTLONGHORNSNO1) November 26, 2016
Not again, please not again
Texas fans have been through this before when Fred Akers left the Longhorns in 1986. Three coaches came and went before Mack Brown came in and brought prominence back to Texas. Brown led the Horns to the National Championship in 2005, and returned to the National Championship Game in 2013. Brown had only one losing season in 16 years leading the Longhorn faithful to nine bowl game victories.
This is the problem with Texas loyalists (well, that and patience).
Strong took over the Longhorn coaching job in 2014. Rumor had been going around that Brown would either be fired or forced to retire, and recruiting suffered. Strong took over a team on the decline and three seasons is not enough to fix the recruiting short-comings, that takes time.
Decade of despair
From 1987 to 1997 Texas went through three coaches, winning the conference only twice while having five seasons of .500 or worse. Longhorn fans do not want that again, those games were often blow-outs. One thing about Texas loyalists, they like winning. Yes, everyone likes winning, but these people bleed orange.
Strong is a good man, a good coach, and more importantly a good role model for the young men on his team. Longhorn faithful should be patient now instead of regretful later by giving Strong more time to build the team. People will want their sons to play for Strong, the good players will come, and some of those players already have. Charlie just needs more time. Texas is not a bad team, they are just not a good team yet. #Texas Longhorns