National pantsuit day will be celebrated on election day
Hillary Clinton supporters plan to show Trump he's not the only one to inspire a movement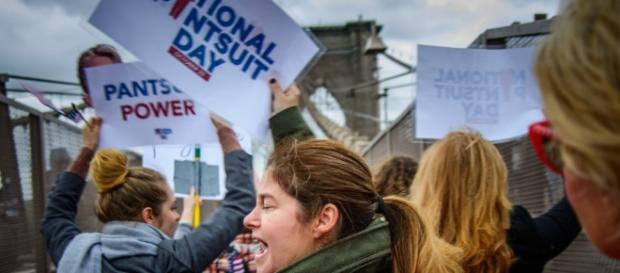 Men and woman across the country intend to come out in droves to honor #Hillary Clinton on November 8th by wearing pantsuits to the polls and every place else. They may even dance in the streets while carrying signs reading "nasty women get stuff done" or "grab Trump by the ballot." Organized by four millennial supporters of the Democratic nominee, National Pantsuit Day was first acknowledged in October and is primarily designed to rally around Clinton. However, founders Sami Kriegstein, Mike Jacobson, Kate Dearing and Lauren Stephenson may have created something more than the resurgence of a fashion style or a rally cry.
Pantsuit Nation
There is a closed Facebook group with over 400,000 members that is growing by astounding leaps and bounds.
The by-invitation-only membership posts inspiring messages as opposed to the dog whistles of hate, fear, and division seen on the other side. Yes, Donald Trump may have started a movement but unbeknownst to him, more people than he thinks knows just what kind of movement it is. National Pantsuit Day is about the women who wear them. These are women who struggle to break the glass ceilings. These are women honoring those before them who as part of the suffrage movement fought for the right to vote. These are breadwinners, single mothers, widows, the discriminated and men, yes men who support them for being their backbones, and their equal. Women are even sharing and posting stories of their own experience with sexual assault.
You've come a long way, baby
The Wall Street Journal is reporting that scores of women are rummaging through thrift stores in search of pantsuits to wear on election day.
So, please do not be alarmed. It won't be a repeat of Halloween with women dressing up as Hillary Clinton. It will largely be groups of female voters publicly showing their support and insistence on being respected and valued. They will represent a stance against bullying or divisiveness but do expect diplomacy, maturity, and knowledge from their elected officials. The pantsuit nation may have been inspired by Hillary Clinton but it could soon become a force to be reckoned with. #Election 2016 #Buzz