MIchelle Obama took flak for basically nothing compared to what Melania Trump has done
How will Conservatives and feminists feel about having a porn-posing First Lady in the White House?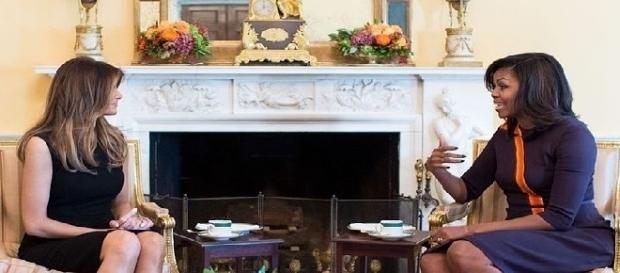 Donald Trump will face a major challenge as a credible president. He never won the popular vote, he has numerous allegations against him, he is perceived as being racist, and there are those that think that he's in cohoots with Russia and/or the KKK. The fears surrounding Trump are numerous, however there's also what has to be called a relatively-minor challenge with his wife as well. Conservatives that lambasted Michelle Obama for wearing sleeveless dresses really need to address the matter of how they feel about Melania Trump's history of posing provocatively in photos.
Michelle Obama dressed provocatively?
Revisiting how Michelle Obama was treated by the conservative right wing is a topic that requires some attention.
Those that opposed the Obama administration made it very clear that they were going to be a pain in the neck for Democrats as soon as Barack Obama took power. Arguably early treatment of Michelle Obama was a part of that as she received significant criticism over something that has to be viewed as entirely banal: she wore a sleeveless dress in her first First Lady photograph.
ABC News, in an article dated from March 2nd in 2009, reviewed the criticism that Michelle Obama faced. According to writer Imaeyen Ibanga "The latest arms controversy embroiling the White House (had) nothing to do with the Second Amendment," in early March of 2009. "Instead, (it) sprung from criticism about Michelle Obama showing off her toned triceps and biceps in her first official photo as first lady."
NPR article in 2012 chronicled similar attitude
In August of 2012 one Bobbie Lussier is cited in a NPR.com article by Ari Shapiro.
Lussier opens with comments on the president and then moves on to the subject of the president's wife.
"BOBBIE LUSSIER: I just - I don't like him. Can't stand to look at him. I don't like his wife. She's far from the first lady. It's about time we get a first lady in there that acts like a first lady, and looks like a first lady."
How Melania Trump will photograph as first lady remains to be seen. I don't doubt that her image going forward will be tasteful to viewers of all ages as there are different pressures when it comes to private life and public life. My expectation is that conservatives will want to focus on how she behaves as the First Lady and not how she behaved in younger days. But it's very strange that Michelle Obama being photographed in a G-rated manner touched off nerves on the conservative right, many of which must have helped Donald Trump and his R-rated wife get the college electoral majority.
GQ did a pictorial of Melania Trump in the past, one that has since been re-visited.
The "Slug" title (ie. the one that appears in your URL) is certainly rated at least PG for sexually-suggestive content and, perhaps beside the point, it's one that strikes me as bizarre: "donald-trump-melania-trump-knauss-first-lady-erections." The article caption reads: "Fifteen years ago we profiled Donald Trump's then-girlfriend Melania Knauss. Now his wife, Melania featured in our naked profile shoot on his customised Boeing 727 wearing handcuffs, wielding diamonds and holding a chrome pistol" (November 8th, 2016).
Society acclimatized to porn?
The Internet has been around for more than two decades now in terms of home-based availability. That has made porn so easily accessible that former porn king Playboy has shut down nude pictorials. Perhaps Melania Trump as the First Lady-elect can be seen in the context of softening attitudes toward porn. However, I feel that it's a matter that the conservatives, especially those that were sensitive about seeing Michelle Obama's arms need to address. Another matter to address is the feminist position on pornography that doesn't see the industry as one that should be acclimatized.