Melania Trump's second speech is a real head-scratcher
Looks like the third missus is borrowing again: this time from Marla Maples.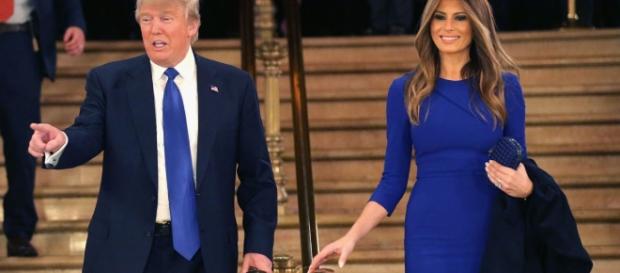 Oops, she did it again. Okay, so this should go into the "what are they thinking" file. First Lady hopeful Melania Trump surfaced today in suburban Pennsylvania from GOP exile to give her first stump speech since the Republican convention. It was no doubt the first speech of two or three, that previously unbeknownst to her, hubby #Donald Trump said she would give. The former model told an excited crowd that it would be her mission as first lady to combat bullying. Melania Trump reminded everyone of how it was never okay for a child to be mocked on the playground or internet. "The culture has gotten too mean and too violent," she said.
Perhaps the Donald has been on the road so long that his wife had forgotten how notorious he is for his inflammatory bullying and mocking.
Then again, maybe Melania feels this is unacceptable form, and only applies to children under the age of 70. She even brought up the fact that kids should never be picked on for their looks or intelligence. This is fascinating. Trump world must really be an alternative universe in which to live.
That sounds familiar
Aside from the audacity of picking what should be a personal topic, there was the hint of a lack of originality once again. Yair Rosenberg, a Table Mag senior writer, immediately took to Twitter to point to a phrase delivered by Melania that first came from Marla Maples. It was the second Mrs. Trump who said: "If you could dream it, you could become it." Although Trump campaign manager Kellyanne Conway is said to have helped with the speech, it will be interesting to see what the public will be treated with in the next.
Fighting cyberbullying is a noble cause
No one can fault Melania Trump for wanting to fight bullying and pure meanness. However, a good majority of thinking folk believe she should first start at home. Even the National Education Association is raising awareness to what is called a "Trump effect," something which gives children the confidence to emulate her husband's bullying behavior. The so-called "Trump effect" sounds like a problem Melania must tackle, if she is to help children. #Election 2016 #Buzz