Meet Mike Pence: the most conservative, powerful vice president in history
President-elect Donald Trump seems set on giving his ultra-conservative running mate a heavy dose of executive office control.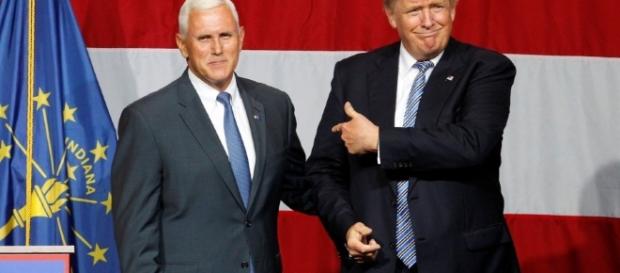 There is no longer any doubt that every single process in this absurd presidential election has shaken the entire foundation of the United States government. Any standing notion of what a president should look or act like has been thrown out the window and crushed with a reinforced baseball bat. #Donald Trump is not your typical president. Despite the fact that he has only two months before his inauguration, he doesn't even have his campaign transition team hired. Trump needs to fill over 4,000 positions for his Oval Office team. However, despite his outreach to fill open slots in the crevices of his campaign, he may not even be taking ownership of the executive branch.
Trump has explicitly announced he will be handing many operational decisions to Vice President #Mike Pence, who may run in 2020 anyway.
Who is Mike Pence Anyway?
Micheal Richard Pence, aged 57, is the current Vice President-elect and began to run with Trump in mid-2016 when he was still serving as the governor of Indiana. While his newly attained position is the highlight of his political career thus far, it is far from the beginning. Pence has held congressional office in Indiana since the new millennium. Pence was raised in Columbus, Indiana in an Irish Catholic family and his grandfather Richard was known for the democratic ideals he held in contrary to the rest of his community. After graduating from a public high school, Pence went to study history at Hanover College and after brief sojourns studied law at Indiana University.
After starting private practice, Pence's first attempt at running for congress failed miserably in 1988, and despite becoming president of the Indiana Policy Review Foundation he failed again in 1990. In fact, Pence failed for 12 years before he finally got a position in the House of Representatives in 2000 after being elected by Indiana's 6th district. Pence ran several conservative-based talk shows between 1991 and 1999, calling himself a 'less outspoken but much more conservative Rush Limbaugh.' Pence was a republican leader in Congress for a decade after he was elected and in 2013 he became the Governor of Indiana.
One Step Forward, Two Steps Back
Pence will make history for being the least collaborative person to ever work in the Oval Office. He actively refuses to compromise with any sort of progressive ideology and has shown his shrewdness through congressional action. Pence ordered budget cuts that slit the throat of multiple organizations dedicated to providing basic services to the general public.
This budget cuts include a 24 million dollar cut to state-run schools from the secondary level (public high schools) to universities, which direly needed the funding. His other cuts include 27 million dollars from the Family and Social Services Administration, which happened to be responsible for serving basic health care to millions who couldn't afford it, and 12 million dollars from the Department of Corrections leading to an increase in privatization of state penitentiaries. He signed the most anti-abortion regulations in America, banning abortion even in cases where the fetus has a "genetic abnormality" such as Down syndrome, helped pass "religious freedom" laws that would have protected businesses who wanted to refuse service to LGBT people under 'religious objections,' forced so many Planned Parenthood clinics to close in Indiana that he triggered a county-wide H.I.V. epidemic, denies climate change, and even used political donations to fund his golf games.
It's Your Vote
These are not qualities representing a president we as a country can put our faith in. Donald Trump will give drastic levels of executive power to Mike Pence if no action is taken; however, you have the right to take action through saying that you will not accept a man like Pence in the Oval Office. If you care about the future of basic human rights in this country be aggressive and vote wisely. #Election 2016