Is America going back to the 1960's civil movement era struggle?
The fall-outs from 2016 elections and their possible effects on American peace and unity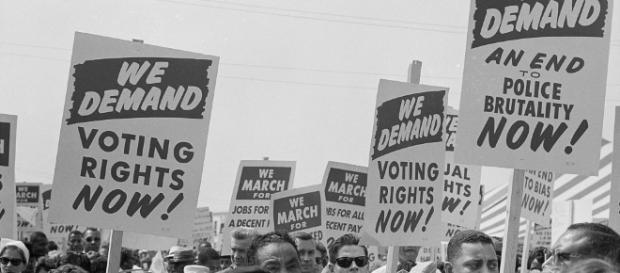 The American Civil Rights Movement of 1960's and the current hullabaloo following the November 8th elections that crowned Donald J Trump as the winner of the presidential race interestingly have two peculiar things in common: It involves groups of minorities that are willing to do whatever it takes to obtain or maintain their constitutional rights; and there is a more powerful force or group of elites who have skewered perceptions of the nature of rights the minorities are clamoring for.
The main cause of the struggle
This dichotomy in worldviews often leads to struggle, sometimes it sparks a series of peaceful demonstrations.
Other times, what started as a peaceful demonstration might turn violent and destructive because people whose rights had been trampled would fight with all they have got to reclaim them.
New-day minorities - dangerous and resolute
But the major difference between the two movements (if what is going on right now can be referred to as a movement) is that the demographics of the begrudging minorities have swollen. What used to be a fight-for-survival mainly for the African-Americans has now grown into pockets of resistance from small populations that include Muslim-(Arab-) Americans, Mexican-(Hispanic-) Americans, LGBTQ people, immigration proponents, Pro-choice activists, Climate change warriors, marijuana campaigners, Obama care enthusiasts, and so on. What makes these new categories of minorities complex, indivisible, and dangerous is that they cut across all races, religious affiliations, academic or social strata and, of course, gender orientations.
They, as a matter of fact, represent a microcosm of the entire American populace. It is not clear if any powerful force or administration can successfully suppress these resilient and hardline minorities who are armed with the advanced communications technology, active networks of like-minded people, and possess the latest ideas about how to fight for whatever they believe in.
Tension build-up
No doubt, the fiery pre-election rhetoric and the violence that ensued after the elections have stoked fear and confusion in many people, mostly in the minorities. The president-elect, Mr. Trump, despite its widely-publicized assurances that American people have nothing to be afraid of, has unwittingly enlarged their fear through the caliber of people he brought on his team as advisers. In his words, George Takei said, "Michael Flynn, Jeff Sessions, Steve Bannon. Islamophobe, racist, anti-Semite. This isn't a cabinet. It's a KKKabinet."
How America can prevent another violent movement
Come January 20, 2017, Mr. Donald Trump will be sworn in as the 45th President of the United States.
It is only he who has the power to calm frayed nerves and unify the country. With the Republicans in control of both the House and Senate, he has the unique opportunity to speedily make provisions that will fast alleviate people's concerns about his style of leadership. Otherwise, America has got some "brewing struggles" on its hands, and their outcomes could be far worse than that of the 1960s Civil Rights Movement.