Hurricane Matthew and Fort McMurray fires among WMO's 2016 "High-Impact Events"
Climate change is seen as a potential factor in these events as Donald Trump appoints a denier to a key position.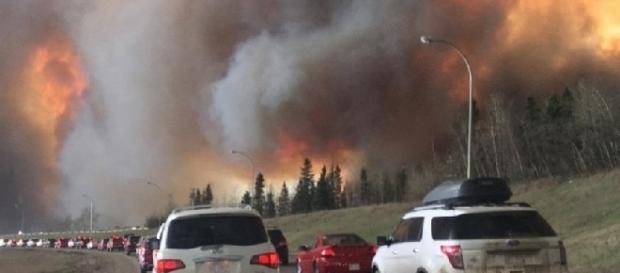 November 14th's press release from the World Meteorological Organization (#WMO) is entitled "Provisional WMO Statement on the Status of the Global Climate in 2016." With the use of the word "Provisional" it seems that if something major should happen between now and the end of 2016 then the organization may update their findings. However, at this point in the year the WMO highlights both Hurricane Matthew and the Fort McMurray Wildfires among many "High-Impact Events" of 2016 with global warming in the background as a potential contributing factor to the events.
Hurricane Matthew killed 546 in Haiti
Hurricane Matthew formed in late September and dissipated on October 10th.
Of all "weather events" in 2016 Hurricane Matthew is the most serious so far "in terms of casualties." The WMO press release cites "Haitian government figures at the start of November" which held that "there were 546 confirmed deaths" among scores of injuries as well.
Other "High-Impact Events" that the WMO lists are Typhoon Lionrock in North Korea and Cyclone Winston. The press release says that China's Yangtze basin "had its most significant summer floods since 1999, killing 310 people and causing an estimated US$14 billion in damage." Furthermore, the report lists several other less catastrophic events:
"Flooding and landslides in Sri Lanka in mid-May left more than 200 people dead or missing";
Alberta in western Canada had the "most damaging wildfire in Canadian history," one that caused the town of Fort McMurray to be evacuated;
Also there was "an extreme heatwave in southern Africa" near the start of 2016.
17,000,000 S. Africans heading toward crisis
The press release concludes with a section on "Humanitarian consequences." While the report mentions that "17 million (Southern Africans) will require assistance...in early 2017" when it comes to food, the final section is not lengthy.
The release mentions that data on 2016 "displacements associated with weather, water, climate and geophysical hazards" is not yet available. With 2016 not over, major environmental catastrophes are still possible. 2004 comes to mind as a year that had a late-year catastrophe with the Boxing Day Tsunami.
The WMO's release in relation to USA politics
The press release could be viewed in the context of the Paris agreement and the recent American election. Perhaps it was released with a full six weeks left in the 2016 calendar year precisely because of current politics in the United States. Donald Trump, the president elect, has denied that climate change is an issue that needs to be faced. He has called it a "hoax" and a Chinese conspiracy as well. As the newly-elected president of the United States his views, those of his followers, and those of his appointees could put an end to America's role in the recent Paris agreement. That agreement is one meant to be a global initiative for mitigating and reversing the effects of climate change.
In a recent article from about a week ago with CBC.ca (Nov. 9th) Hilda Heine, the president of the Marshall Islands, is quoted: "Now that the election campaign has passed and the realities of leadership settle in, I expect (Trump) will realize that climate change is a threat to his people and to whole countries which share seas with the U.S., including my own." However, the idea that Trump winning the election has made him a more responsible politician when it comes to climate change doesn't seem to be supported by recent actions. Donald Trump appointed Myron Ebell to be the head of his transition team regarding the Environmental Protection Agency in America.
Ebell doesn't believe in human-caused climate change. His involvement as the head of America's Environmental Protection Agency may stall progress on fighting climate change at a crucial time when humanity needs to make progress. #HurricaneMatthew #AlbertaWildfires