How many reporters did Trump wine and dine?
Megyn Kelly reveals that she said no to gifts from Trump. How many reporters said yes?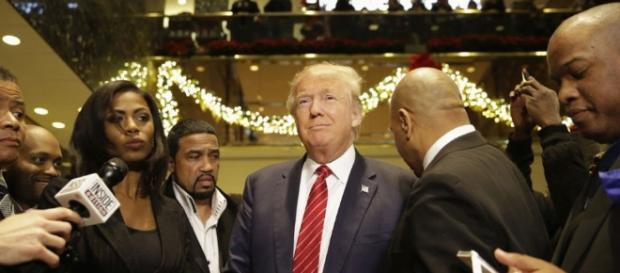 Fox News host #Megyn Kelly has a new book out, called "Settle For More." As the New York Times review of it reveals, Kelly writes in the book about her career, her experiences as a working mother, and the sexual harassment she suffered at the hands of longtime Fox News boss Roger Ailes. She also discusses her feud, during the campaign, with candidate-turned President-elect #Donald Trump.
The review of the book makes clear that Trump used a certain carrot-and-stick method with Kelly: before their feud, and his infamous "blood coming out of her whatever," he invited the Fox host and her husband to his Mar-a-lago estate in Florida.
He tried to pick up the tab for a weekend she spent with friends at one of his hotels.
"This is actually one of the untold stories of the 2016 campaign," Kelly wrote, as quoted by the Times,"I was not the only journalist to whom Trump offered gifts clearly meant to shape coverage. Many reporters have told me that Trump worked hard to offer them something fabulous — from hotel rooms to rides on his 757."
A pattern of plane rides
That Trump regularly wines and dines reporters, to a degree mostly unheard of in modern day politics, hasn't been a secret. In McKay Coppins' famous Buzzfeed story from 2014, "36 Hours On The Fake Campaign Trail With Donald Trump," Coppins makes clear that Trump tried to ply him with gifts, plane rides and hotel stays in exchange for favorable coverage -- but Coppins wrote the truth instead, leading to vicious retaliation from Trump and his team (and -- its been suggested -- Trump ultimately deciding to run for president as an I-told-you-so.)
That raises a question: we know that Trump tried to ply reporters for positive coverage, but it didn't work in the case of Coppins or Kelly.
But how many times did Trump try that trick with a reporter, when it DID work?
Trump vs. the media
Much, of course, has been written about Trump's going to war with the media throughout the campaign, taking the usual "liberal bias" critique to ludicrous extremes and applying vicious name-calling to reporters and outlets who merely accurately wrote down what he said.
But in many other ways, Trump used the media to his advantage. He got thousands of hours of free media. He bullied media outlets with outlandish demands that they accepted. And some reporters -- they know who they are -- fell under his spell.
Now that Trump is president, media organizations must be vigilant. They also need to start enforcing their gift-accepting policies. #Settleformore