Hillary has gone to the dogs and an occasional good book - sounds like Bill may be taboo?
It looks like Hillary Clinton unintentionally offered a snapshot of life at home where she turns to inanimate objects and dogs, but not Bill!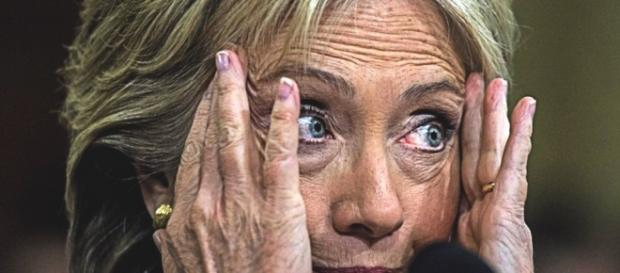 Hillary Clinton stepped out for her first public speech since she conceded the election to Donald Trump. She expressed how hard this loss has been for her and how she didn't really want to come out of the house, but she did. These emotions seen from Hillary during this speech are the emotions she should have offered up while on the campaign trail because they make her look more human.
Hillary curls up with anything but Bill?
She told the crowd at the Beat the Odds Gala on Wednesday night that it wasn't easy for her to show up to the podium. The event was for the Children's Defense Fund charity and Hillary took her recent loss and her recent gloom over the loss and used it as an example of picking herself up and moving forward.
She finds herself curling up with the dogs at home and a good book, but she didn't mention curling up with Bill! Is he paying the price for his gaffes during the campaign?
Credits mom, not hubby
Hillary talked about her mother's struggles in life and how she feels that her mother would know that it wasn't done in vain. It was her mother's struggles that impacted Hillary's life and because of what's she's learned she will now focus on the future and leave the past where it belongs... in the past. As CNN News reports, Hillary did not "wallow in defeat" during her speech.
She did tell the crowd that all she has wanted to do lately is curl up with a book or her dogs, but she never mentioned Bill. It seems she is finding comfort in an inanimate object and her dogs instead of her husband who she has been married to for decades.
Bill the wrecking ball?
During her campaign, Bill wasn't always her best advocate when it came to getting her closer to the White House. He made a few comments that left some wondering if he'd prefer not to move to Washington again. Hillary had often referred to Obamacare as being "Hillarycare" first because of how much she put into the healthcare program. But Bill said in a speech that Obamacare was crazy and that it didn't work.
After Bill's comment Hillary was quick to jump into damage control, changing her view from Obamacare stays to she was going to fix the things in this healthcare plan that didn't work and leave the pieces alone that did work. Many thought he was more of a liability for Hillary's campaign rather than an asset.
@Titanic_Britain Twitter removed this and 50 retweets please retweet the hell out off it Bill comes out for Trump! pic.twitter.com/7cTis3Kw6O

— Louis Cannell (@Lucan07) October 22, 2016
Thumbs up for Trump!
As Hillary's campaign was in full force, Bill was seen in a picture with a Trump fan. The guy was wearing a Trump T-shirt and both the unnamed man and Bill were seemingly holding thumbs-up for Trump. That picture saturated the online world leaving many wondering whose side the former president was really on? It seems there may be a reason that Hillary isn't "curling up" with Bill these days, just her dogs and a good book!