Hillary Clinton leaves enough fallen people in her wake to carpet the Oval Office?
Is Hillary Clinton too damaged and does she come with just too much baggage of uncertainty to be even a mediocre president?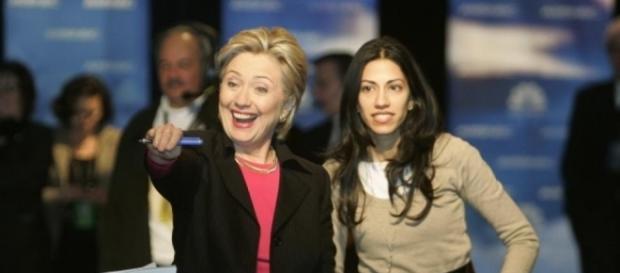 A bleak look into the future emerged today and it has to do with #Hillary Clinton somehow winning the election. As a candidate she's proved lethal to those she's politically befriended. Careers are ruined under the pretense of pushing Hillary closer to the White House. If she does by chance make it into the Oval Office it seems she may come with way too much baggage to get anything done, as Market Watch suggests today.
A severed helping hand
Huma Abedin was her right-hand person until emails came between them. Debbie Wasserman Shultz was forced to step down as the Democratic National Committee Chairperson around another Hillary debacle.
After leaked emails showed the party made unethical efforts to advance Hillary as the party's candidate over Bernie Sanders, Wasserman Shultz was gone.
A heads-up Hillary should have shared!
Now the leaked emails reveal CNN analyst Donna Brazile, who is a Hillary supporter, provided Hillary with questions for the debates hosted by CNN before the debates took place. Brazile's resignation was accepted by CNN yesterday. The network was disgusted over what she had done, according to a statement they released.
Hillary apparently ran with those debate questions without saying anything to the people overseeing the event. Megyn Kelly of Fox News showed Hillary answering one of the questions after an email stated this was one of the questions she would be asked. Brazile lost her job because of this, as CNN made it quite clear that despite accepting her resignation they've severed all ties with the woman, according to The Daily Caller.
Hillary who allegedly accepted the questions and was seen answering one of them during a debate is once again unscathed over this. If Hillary had decided to do the honest thing, she would have let the top brass of the debates know that she is aware of the questions and excuse herself from the questions she had seen.
Leg-up over opponent at debate
Hillary had a leg up over her opponent at the debate, who was not awarded the same inappropriate heads-up on the questions. Huma's gone after Hillary's emails from her home server showed up on Huma's husband's laptop,  which was a computer they shared at home. 
Debbie Wasserman Shultz is gone for her part in pushing Hillary ahead for the Democratic primaries and now Brazile is gone for handing Hillary debate questions. What about Hillary's part in all these incidents? These three women have lost their jobs and are probably finished in their careers all because they did things under the umbrella of helping her get her elected. Today they take the fall while she skates off trying to gather more votes.
Hillary damaged beyond repair?
Market Watch suggests that Hillary Clinton is "irreparably damaged even if she wins." Because she comes with so much baggage, if she ever did get into the White House, she would never get anything done because she is so damaged. They also suggest that Trump's claim that Hillary Clinton's scandal is "worse than Watergate" may have hit the nail on the head.
Lorretta Lynch is still not out of the woods yet and she too could join Huma, Brazile and Shultz as fallen women who took the fall when helping Clinton. Lynch's meeting on the tarmac with Bill Clinton didn't award her job security with future administrations. This is a sad state of affairs for Hillary's political associates, but how many more secrets will pop up and how many more people harboring those secrets will take the fall for Hillary? #Wikileaks